Changing the Norm: Oiselle Signs Four Female Distance Runners of Color
The new sponsorships reflect the brand's commitment to diversity and representation.
Heading out the door? Read this article on the new Outside+ app available now on iOS devices for members! Download the app.
Carmen Pelar Graves has been working hard at becoming a better runner for almost 10 years. 
During that time, she's been one of the 10 best 3,000-meter steeplechase runners in the country on several occasions. But the Denver-based athlete has also been one of only a handful of non-white distance runners competing at the U.S. track and field championships—a reality at least partially attributed to the fact that women of color haven't received many offers to become professional athletes supported by brand sponsorships.
Prior to the July 6-9 USA Track and Field Outdoor Championships in Eugene, Oregon, women's apparel brand Oiselle announced the signing of four new athletes to its Haute Volée team, which is made up of rising elite and professional athletes. Graves was signed to the team, along with fellow steeplechaser and training partner Madie Boreman, 1,500-meter runner Melissa Tanaka, and 800-meter specialist Brenna Detra.
The signing of these athletes, who are all women of color, is especially noteworthy, as this demographic is still vastly underrepresented in distance running events in the U.S. 
"It's definitely hard because I feel like there's so many brands out there that are talking about inclusivity and diversity and this, this, and this, but they don't really put their money where their mouth is," says Graves, 32. "Oiselle is making a very important statement by standing behind its commitment to embrace racial justice and inclusivity in the sport of running. That's the difference between other companies and Oiselle—they have a mission and they have values, and they actually act upon those. And you can see that expressed through them taking the time and effort and resources to sponsor women of color and particularly not sprinters."
Days after earning the partnership, Graves placed ninth at USAs in a new personal best of 9:32.58. She followed that up with a strong fourth-place finish (9:34.44) at the Harry Jerome Classic meet on July 14 in Vancouver, Canada. She'll race again on July 22 at the Sound Running Sunset Tour event in Los Angeles with the hopes of improving her World Athletics ranking as she heads into 2024 and the U.S. Olympic Track and Field Trials.
"One of Oiselle's missions is to improve the sport: our recruiting process is a very intentional reflection of this value," says Justine Fédronic, community and athletes partnerships manager at Oiselle. "By supporting women of color and providing a platform for their self-expression, not only in sport but holistically as women, current and future athletes begin to see that it's possible to be both invited and included, and to influence the future of the sport."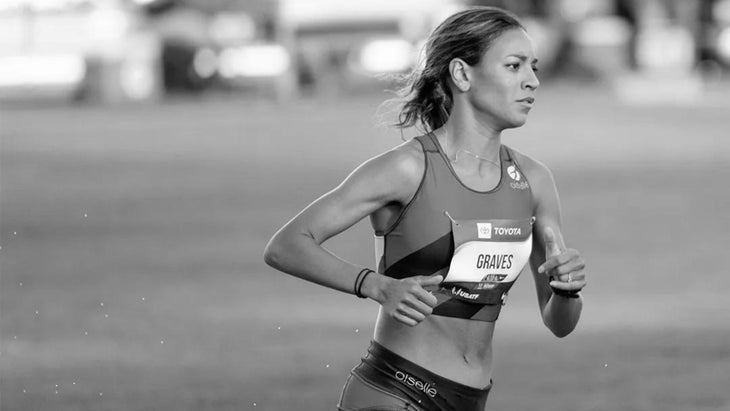 RELATED: Mission-Forward Running Brands Janji and Oiselle Announce New Partnership
Oiselle's unique approach
As a women's apparel brand, Oiselle has long been vocal about its commitment to elevating the voices and achievements of female athletes, having signed notable runners such as two-time Olympian and World Championship silver medalist Kara Goucher and two-time national champion Lauren Fleshman, in 2014 and 2013, respectively. The brand is known for its unique approach in how it sponsors athletes, aiming to showcase how it values its athletes not just for their racing abilities, but for their life interests and personal passions related to improving the sport for future generations. 
"Oiselle was founded with the intention of building a women's running brand, and athlete team, in ways that are distinct and different from the norm–we're here to challenge standards and improve the sport," says Oiselle president Atsuko Tamura. "As long as the need exists to make running more representative of our communities—which tend to reflect more racial diversity than who shows up on a team's roster—we will keep doing the work. When the work has purpose, it's rewarding—especially when it inspires people to see what's possible—and most importantly, that they belong.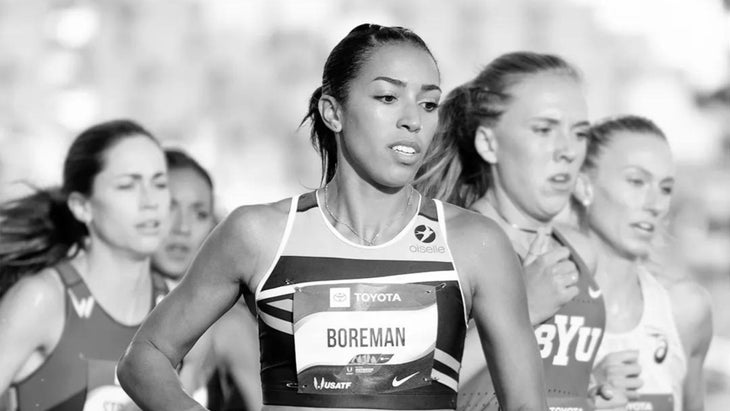 Boreman, 25, placed 11th at USAs in the steeplechase. She's the American junior record-holder in the event and holds a personal best of 9:22, as well as 8:50 in the indoor 3000 meters. In a news release from Oiselle, she shared some hardships she overcame on her path to elite running, including growing up in government-assisted housing in a single-parent home and then going through a three-year cycle of injuries while competing collegiately at the University of Colorado-Boulder. In addition to training in Denver and Boulder with Graves, Boreman is also currently working as the athletics recruiting assistant for the University of Colorado's football program.
RELATED: A New Women's Champion and a New World Record in the Beer Mile
"I'm excited to partner with Oiselle because the brand aligns with what I find important in the sport," Boreman says. "I came up in distance running with little to no representation of people who look like me. I have always had the goal to be that representation for someone else, and with the help of Oiselle I can finally do that."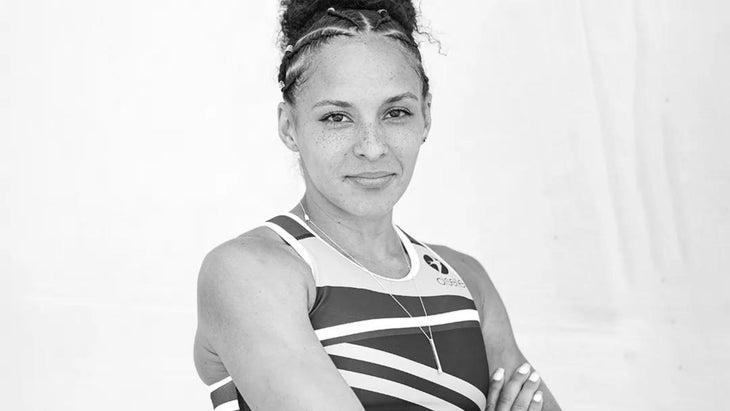 Detra, 27, specializes in the 800 meters and holds a personal best of 1:59.57 and 2:01.57 in the indoor 800. She placed 11th overall in a time of 2:01.69 in the 800 at USAs. Her recent athletic highlights include a fourth-place finish in the 600 meters at this year's Millrose Games in New York. Detra is based in Boston and also works remotely as an associate deal desk analyst for Oracle.
"Before signing with Oiselle, some brands were trying to force my hand and say 'why don't you train with a group?' [not realizing] that most of those groups have no people that look like me, or any female coaches," Detra says. "For me, this signing solidifies my place in this sport –I've worked very hard to get to this point in my career, and I'm so grateful for a brand that sees the potential in me and will support me every step of the way."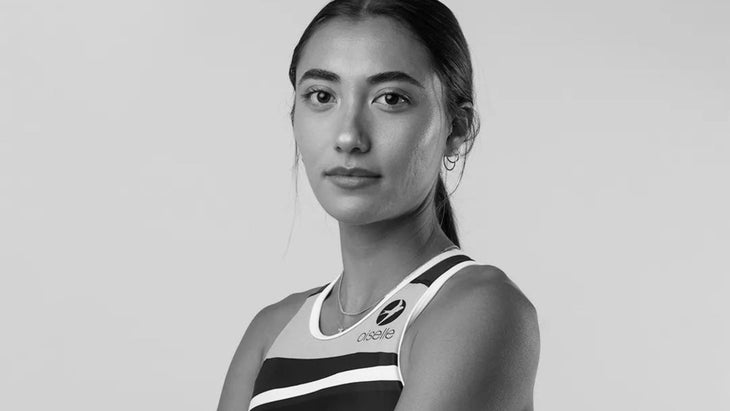 Tanaka, 24, is based in Stanford, California, and specializes in the 1,500 and holds a personal best of 4:09, as well as 2:04 in the 800 meters, 2:05 in the indoor 800 meters, and 4:37 in the indoor mile. She placed 15th in the 1,500 meters in her debut as a pro at USAs, running 4:13.49. This year alone she was a national champion in the distance medley relay, and a distance medley relay champion at Penn Relays. She was also a five-time Ivy League Champion in several indoor and outdoor events during her time as an undergraduate at the University of Pennsylvania. 
Tanaka also recently received a master's degree in environmental engineering from Stanford University and is set to start a job in the fall doing marine biophysics research to study how the flow of ocean waves affect life in coral reefs. 
"Oiselle stands for so much more than just trying to get their athletes to run fast–they genuinely appreciate and care for their athletes as women on and off the track and back it up with the support and encouragement needed for us to thrive in life, beyond running," she says. "Growing up, it wasn't easy to find my place in running, as I didn't see many Asian American athletes competing at the professional level. Talking with Oiselle and knowing that one of their main goals is to boost representation of women of color has felt super validating. Sharing the opportunity to be that source of inspiration with the women of color on our team is an important step in helping to remind all people that you don't have to fit a certain mold to be successful in running."
RELATED: Elite Running: A Labor Of Love
Perseverance pays off
Graves has shown a range in the events she has raced, from the 800 meters to the half marathon and is also a three-time Penn Relay 3,000-meter steeplechase champion and a two-time Millrose Games distance medley relay champion. She works in the non-profit sector as a program advisor for the Center of Work Education and Employment, coaches high school horizontal jumps, and is the co-founder of Denver Athletics, a club that she and her husband started in the Denver metro area in an effort to bring the Denver running community together through hosting quality track and field events for all ages and abilities.
Graves, who was a collegiate All-American runner at Roanoke College in Virginia, expressed excitement about being approached to sign with the brand now, after having been turned down when she initially reached out in 2014 because it didn't have the bandwidth to add to its then-current roster. There were times during the past 10 years in which Graves was so frustrated she wanted to quit. But she's persevered and she's kept improving.
"As a non-white distance runner who ran at the NCAA Division III level, my odds of getting a sponsor were slim to none, and I eventually gave up on finding a sponsor after I turned 30," she says. "Signing a running contract is a dream come true and it's a great feeling to finally be recognized for all my hard work and dedication. I am looking forward to less financial stress from the cost of training and traveling so I can just focus on training and competing at a high level."
"Oiselle signing four women of color at once was noteworthy and my hope is it continues to shed light and focus on the major inequalities in our sport," Detra adds. "Girls of color growing up should see they have an opportunity to celebrate a brand that also celebrates them."
RELATED: Mission-forward Running Brands Janji and Oiselle Announce Partnership