Neely Gracey Sets One-Mile Stroller Run World Record
The four-time Olympic marathon trials qualifier and mom of two set a new stroller mile world record in Colorado.
Heading out the door? Read this article on the new Outside+ app available now on iOS devices for members! Download the app.
Boulder, Colorado-area elite runner Neely Gracey, 33, set a new stroller mile world record of five minutes, 24.17 seconds on Friday in front of a hearty crowd at the Englewood High School track in Denver.
The previous stroller mile run record was five minutes, 57.95 seconds set in July 2022 by Sally Onn in the United Kingdom.
Gracey's world record attempt was a long time in the making and gave Gracey the opportunity to include her two sons, Athens, 4, and Rome, 2, in an epic feat.
RELATED: 6 Lessons That Helped Neely Gracey Achieve Her Own Big Breakthrough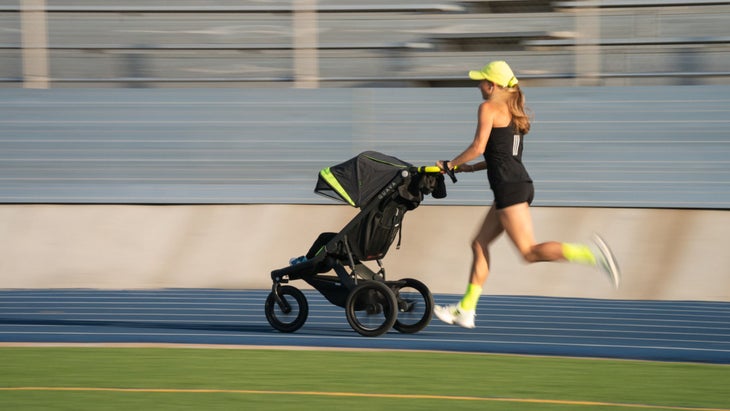 An Idea is Sparked
In early 2022, Gracey saw an article about a dad who set the men's stroller mile world record in a time of 4:31, and, being a professional runner, Gracey's competitive juices started flowing, wondering what the current stroller mile world record was for women at the time.
"At the time I became interested in exploring a stroller mile world record attempt, the stroller mile world record was six minutes and nine seconds," Gracey says. "I began the process of filing the paperwork with the Guinness World Records association, and by the time it was filed in the fall of 2022, the women's stroller mile world record had dropped to five minutes, 57 seconds."
Regardless, Gracey jokes that she had "probably run that mile time just in my runs around the neighborhood with my kids in the stroller."
Although Gracey's eldest son is at school during the weekdays, her youngest is at home with her, leaving plenty of opportunities for the pair to log some stroller miles together.
"If I couldn't find a babysitter for Rome during the day, he would come along on my runs with me in the stroller," Gracey says. "I also run the one-mile route to Athens' school with him everyday… knowing how much I want to include my kids in my big goals and how frequently I run with them in the stroller, attempting the world record stroller mile felt very authentic to me."
Filing with the Guinness World Record association for a world record attempt is no cakewalk.
Gracey had to provide a ratified course – the 400m-per-lap track in Denver -, have witnesses to her attempt, have official world record attempt timing, and agree to keep one of her hands on the stroller at all times without the option to switch to the other hand at any point.
"There is so much red tape that has to be addressed before you can actually do a world record attempt," Gracey says. "I had to prove the course was measured correctly and get the signature of the person who measured it as well as be prepared to get multiple witness signatures after the world record attempt."
By the time the paperwork was ratified and Gracey was approved to do her world record stroller mile attempt, it was best to wait until the warm weather arrived in summer 2023.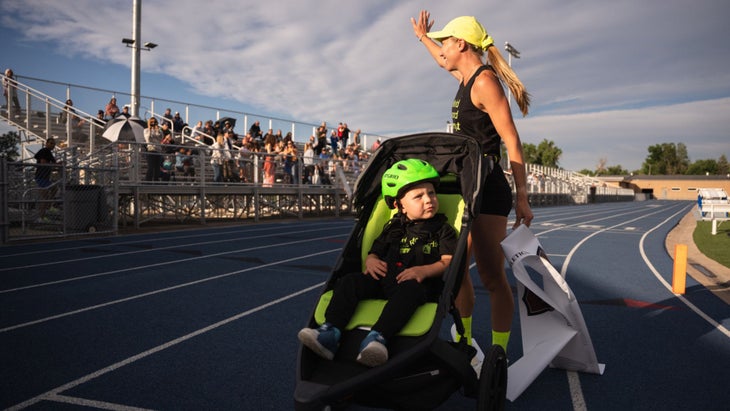 Training and Logistics
Fortunately for Gracey, one of her former collegiate running teammates hosts an all-comers track meet on Fridays in Denver. This includes a measured course (the track), official timing, and plenty of witnesses.
"My friend Sean gave me the green light to do the stroller mile world record attempt at his Friday night community track meet," Gracey says. "We've worked together with my stroller sponsor Guava Family to make a spectacle out of the attempt."
Gracey ran the record with her youngest son in the stroller (with a helmet on for safety!) because he weighs the least and will be using the Guava Family "Roam" model stroller.
"I've used a lot of strollers since having kids, but I liked the Guava Family Roam model because it has airless tires, so they won't get a puncture and my kids sit upright in the stroller which is more comfortable for them," Gracey says. "Plus, the stroller is easy to use in daily life too, so it gets used beyond run training."
As for stroller mile-specific training, Gracey relied on her bank of fitness from earlier in the year to guide her to the world record attempt start line.
"I ended my spring competitive racing season in June," Gracey says. "I was able to set a new half marathon course record at a race in [Colorado] and then run in the pro field at the Bolder Boulder 10K, too."
Since then, Gracey embarked on "modified training" and practiced running with the stroller at fast paces with her youngest in tow, building from 200m stroller repeats, to 400s, and finally, 800s.
Embracing Being a "Mother Runner"
Gracey shares that she wants her kids to grow up seeing a healthy lifestyle and aiming for big goals as normal.
"I grew up going to the track with my dad, who is an Olympian, and ended up loving running because of it," Gracey says. "My parents ran every day. I grew up knowing that athletics was part of our family's norm, and I want the same for my kids."
Running is often viewed as a solo activity, but thanks to stroller running, Gracey has been able to bring her kids on run adventures from a jaunt around the block to an 11-mile long run.
"I want my running to be inclusive for my kids," Gracey says. "I want my kids to be part of my goals and see the benefits of [an active lifestyle] from a young age… and I also want parents out there to know that it is entirely possible to find a way to include your kids in your athletic goals."
Gracey is now entirely focused on the Olympic Trials for the marathon in February 2024 in Orlando, Florida, the training for which will undoubtedly include logging many miles with her kiddos along for the ride.