After Enduring a Tragedy, Maggie Montoya is Blossoming as a Marathon Runner
The Bolder Boulder 10K pro race will feature two teams of top American women and Montoya will be among them representing Team USA.
Heading out the door? Read this article on the new Outside+ app available now on iOS devices for members! Download the app.
When Maggie Montoya toes the starting line of women's professional race of the Bolder Boulder 10K on May 29, she'll proudly don a USA team kit and race in one the largest Memorial Day celebrations in the country.
While she's mostly focused on training for marathons, Montoya is excited to run the 6.2-mile race through her adopted hometown, where the streets will be lined with cheering spectators. The quintessential Boulder race that helped make the town one of the country's most notable running towns is known for bands and parties along the course and one of the best finish lines in all of road racing.
In the homestretch of the race, runners enter Folsom Field, the University of Colorado football stadium, and sprint to the finish line amid the resounding roar of a raucous, near-capacity crowd made up of primarily of recreational runners who participated in the event's 100 or so citizen waves earlier in the morning.
Montoya will be joined by fellow Colorado-based elite runners Carrie Verdon and Neely Gracey on one of two U.S. women's teams (Laura Thweatt, Emily Durgin and Ednah Kurgat is the other American trio) that will compete alongside teams from Kenya, Mexico and Colombia in the $85,000 Bolder Boulder International Team Challenge.
No matter how fast Montoya runs, running into that stadium full of cheering people could feel like a warm, much-welcomed embrace from the local running community, especially after the tragedy she endured two years ago in Boulder.
"I've never been in the stadium, but I'm looking forward to the finish," she says with a smile. "It's my first 10K at altitude, so I'm hopeful I will run well. I just want to run strong, race well, and have fun with the ladies. My goal is to stay with the pack and then bring it into Folsom Field, still loving running and having fun."
RELATED: Can A Race Be A Transformative Experience?
Evolving as a Runner
Montoya, 28, moved from Rogers, Arkansas, to Boulder in 2018 intent on continuing an upward trajectory as a middle-distance runner after a strong career at Baylor University that saw her earn numerous All-Big 12 Conference accolades, twice qualify for the NCAA Cross Country Championships and garner All-American honors on the Bears' distance medley relay team during the indoor track season.
She began training with the Roots Running Project team under the guidance of coach Richey Hansen, and won the first race she ran in Boulder—the low-key summertime West End 3K. But she didn't have the credentials to attract sponsorship from a running shoe brand, so, working almost full-time as a pharmacy tech at a grocery store, she quickly had to adapt to the blue-collar, unsponsored running lifestyle of her teammates, most of whom are hardworking but unheralded post-collegiate runners from NCAA Division I or Division II programs.
Although she set several new personal best times on the track and roads over her first few years in Boulder, her potential, , Hansen says, was clearly tied to her strength and endurance.
"When she joined us, she thought in her head she was a 1,500-meter runner, but, in training, we would see her crush these tempo runs, crush the threshold workouts and the up-tempo long runs," Hansen says. "But there was like a cap on what her speed was when she was doing the shorter workouts. So it's like we knew eventually she was going to move up to the longer stuff. It was just wrapping her head around it."
By the fall of 2019, Montoya had boosted her training volume enough to run the Monterey Bay Half Marathon, her debut racing 13.1 miles, and finished fifth in 1:13:33 on the hilly course. Two months later at the Houston Half Marathon, she lowered her personal best time to 1:10:06.
That earned her a spot on the U.S. team that was going to race in the World Athletics Half Marathon Championships two months later in Poland. But when the COVID-19 pandemic hit, the event was postponed and, although it was eventually held in October, USATF, the U.S. national governing body, decided not to send a team.
Trapped in a Horrific Tragedy
By early 2021, the tenacious Montoya had done well balancing nearly full-time work and full-time training. She was looking forward to running the 5,000- and 10,000-meter events on the track at the COVID-delayed U.S. Olympic Trials in June but was also open to running longer races, too.
But then, a year after the pandemic interrupted her running life, she was caught in an unthinkable tragedy. On March 22, a day after returning from a seventh-place finish at the U.S. 15K championships in Jacksonville, Florida, she was working a shift in the pharmacy department at a King Soopers grocery store in Boulder when a deranged gunman shot and killed 10 people, including the first police officer who responded to the incident.
Montoya and her colleagues were trapped in a room behind the pharmacy during the hour-long ordeal, which included a long shootout with police. She was terrified, but she had the wherewithal to dial 911, then call her parents to tell them she loved them, and also text back and forth with Hansen, who was sending updates on police and SWAT activities. The suspect eventually surrendered after police shot him in the leg.
While Montoya survived the incident physically unscathed, she was understandably traumatized, especially because she couldn't avoid seeing the lifeless body of a fellow supermarket employee as she was escorted out of the building by police. She was interviewed by several media outlets in the days after the event—Colorado Public Radio and CNN and—but now she politely (and understandably) declines questions about it.
She left Boulder briefly that spring to spend time and recuperate with her family, and when she returned she was embraced by her friends and teammates on the Roots Running team and participated in the Run 4 Boulder Strong 10K to honor those who died. She's also sought the counsel of professional therapists, talked with friends and learned to give herself plenty of grace to endure the hard moments and memories.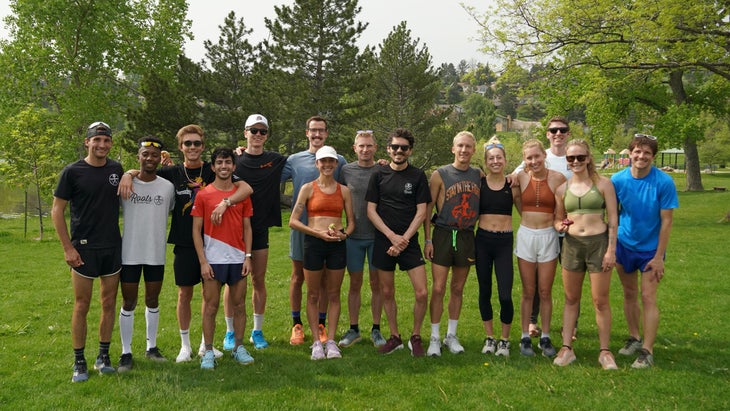 In her first race back two months after the incident, she set a new personal best in the 5,000. But, partly because of a nagging hip injury, she eventually scrapped plans to run the Olympic Trials on the track that summer and instead began retooling her training, her career plans, and her outlook on life.
While the incident isn't entirely behind her—and maybe never will be—Montoya has moved on and is in a good place now thanks to her community of family, friends and teammates, Hansen says.
"There might always be things that linger. You could be in a restaurant and a plate drops or you hear a loud sound, and there's a startle response and there probably always will be," Hansen says. "I think the support system of her friends, her family, her roommate, her teammates, like it's not only an outlet, it's a sense of empathy, it's a sense of comfort, it's the community she's been in that has supported her."
Transitioning to the marathon served as a purposeful and timely way for Montoya to immerse into the best and most authentic version of herself. Her teammates have marveled at her strong work ethic, kind demeanor and optimistic outlook.
"She's one of the best people I've ever met in my life," says Roots teammate Jennifer Bergman. "She's one of the few people I've ever met who has just no bad bone in her. She's always full of positivity."
Hansen believes finishing the Bolder Boulder could be another key moment in her evolution, both as a runner and as a person.
"I think being able to compete in front of that community where she's grown a lot as a person, will be a special moment for her," Hansen says. "She's had some of the best moments in her running career here and also some of the most traumatic experiences in her personal life here, so to enter the stadium knowing that the crowd tends to cheer for the Americans, but also one of their own that's from the community, should be really special."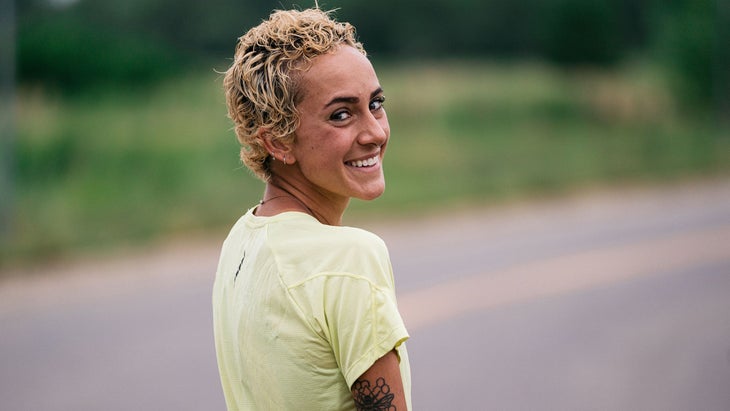 Running Joyfully
Five years after swearing she'd never race longer than 10K, there's a twinkle in Montoya's eyes as she smiles when she admits, heck yeah, she's a marathoner. She's run three pretty good ones since her debut at 26.2 miles 16 months ago—Houston in January 2022 (3rd, 2:29:08), Chicago in October 2022 (8th, 2:28:07) and Boston five weeks ago (24th, 2:31:19)—and has qualified for the 2024 U.S. Olympic Trials Marathon next February in Orlando.
Although her running goals have shifted, her worth ethic and perseverance have been both relentless and measured as necessary. Her efforts have gotten noticed and paid off, as Salomon signed her up last summer as the second U.S. athlete on its new professional road running team (after Roots teammate Noah Droddy). The sponsorship deal provides her with financial support, as well as Salomon running shoes, apparel and accessories.
"It makes me feel glad I stuck with it, because it gets hard doing this, and a lot of people never get the opportunity, so I'm really grateful for that," she says. "I never thought I'd do a marathon because, I was just like, 'Man, it hurts to run a 5k, I don't wanna hurt for 26 miles. But it turns out if you do it right, you're not hurting for that long of the marathon. And most of my teammates are marathoners and they bring a lot of expertise and a lot of know-how, so it's been fun following in their footsteps and figuring it out."
It has allowed her to back away from working—she continued working part-time as a pharmacy tech at a different King Soopers store in Boulder until recently—and put her time, energy and money toward pursuing a master's degree in public health. Her longer-term career goal is to conduct drug research on neglected ailments and diseases that might be more readily treated if given resources and attention.
But for the foreseeable future, her most pressing goal is running a faster marathon this fall and then preparing for the Olympic Trials. Most recently, she won the Brooklyn Half Marathon on May 21 in New York City in 1:11:38, which Hansen says, is another testament to her advanced aerobic strength, integrity and evolution as a runner.
Montoya says she loves long runs more than ever, but admits she couldn't have gotten to where she is without the attention, care and supportive culture that Hansen and her teammates have provided.
"There's so much joy in running," she says. "It's such a simple sport, and it's something I think I'll do forever. As you put on a pair of shoes, and you go out and run, it brings this amazing feeling, and I love that."