New York City Marathon Spectating Tips From The Broadcast Host
Whether you're on the ground spectating or viewing the marathon from afar, here are the best ways to catch the most action.
Heading out the door? Read this article on the new Outside+ app available now on iOS devices for members! Download the app.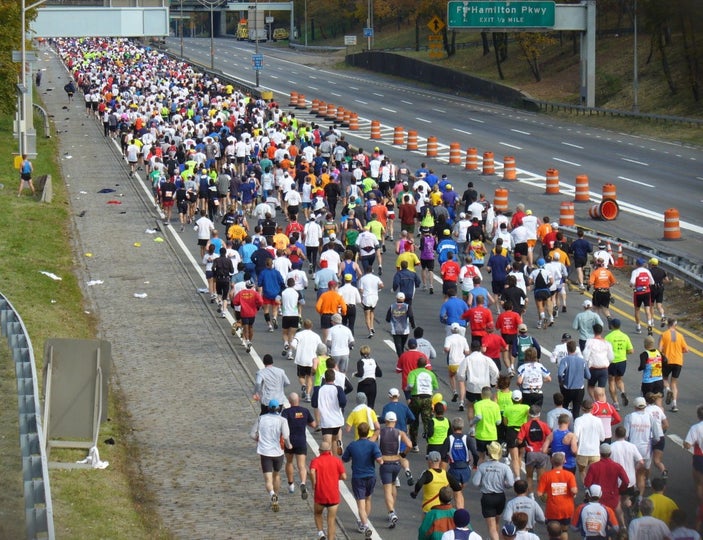 For the third year in a row, sports and newscaster Hannah Storm is hosting ESPN's New York City Marathon broadcast. Storm's favorite place to watch is at the finish line.
"It's a life-changing event for the winners, watching them is a very special and emotional experience," says Storm who says she doesn't plan to ever run the New York City Marathon, but is very happy to broadcast it. "Once the winners finish, everyone else starts to cross the line, and it becomes this huge celebration. There's nothing else like it."
For those who fear watching a marathon on TV might not convey the energy of the day, Storm disagrees.
Related: This Teenager Already Qualified For The Olympic Trials
"I'm an extremely energetic broadcaster, but letting the marathon speak for itself is the best coverage I can do," Storm says. "Just by virtue of the event, the coverage is exciting, plus we try to go to all the sights and have reporters in different neighborhoods to give the feel of the race."
Storm thinks best way to follow race-day action is by being at the race and watching or listening to her broadcast using the ESPN app.
"You have to be tuned in so you know what's going on when the sea of humanity goes by," Storm says.
Here are Storm's top-seven tips for spectating in person:
1. It's easier for your runner to find you than you to find your runner. Let them know exactly where you will be. Go heavy on the details—include the cross streets and side of the street where you will be standing.
2. Cheer for everyone, not just the people you know. People are out there running for charity, checking something off their bucket list and doing something they worked really hard for—cheer for everyone. It is really motivating for them. If you see someone passing by with their name on their shirt cheer for them, they'll love it!
3. This is really important—it's always cold! Layer up to stay warm. Get a detailed weather report, and be prepared for wind, rain and changing temperatures. You're going to be outside for a long time.
4. Comfortable footwear is not just for the runners. You are on your feet all morning and into the afternoon. Choose warm and supportive footwear because spectating involves a lot of standing and walking.
5. This is a real New York City event. Try to be a spectator in different areas. Each neighborhood has it's own energy and flavor. You might not be able to get too many places in the same day due to road closures, but try watching from a neighborhood, from Manhattan, it's good to experience different locations. Mile 20 in the Bronx is always a good place to watch. Runners tend to need more encouragement by that point and its usually not as crowded.
6. Go out early to get a good viewing spot. Allow extra time for road closures and traffic. Or avoid day of traffic, and make a weekend of it. I like to stay in Manhattan the night before. It's much easier and the city is so festive.
7. Be prepared with snacks and water. In addition to whatever you are taking for your runner, bring plenty for yourself.