My Real, Raw, Messy, Hopeful Journey To An Olympic Team
Elite runner Stephanie Bruce gets really real about her post-pregnancy efforts to make a big showing at this year's games.
Heading out the door? Read this article on the new Outside+ app available now on iOS devices for members! Download the app.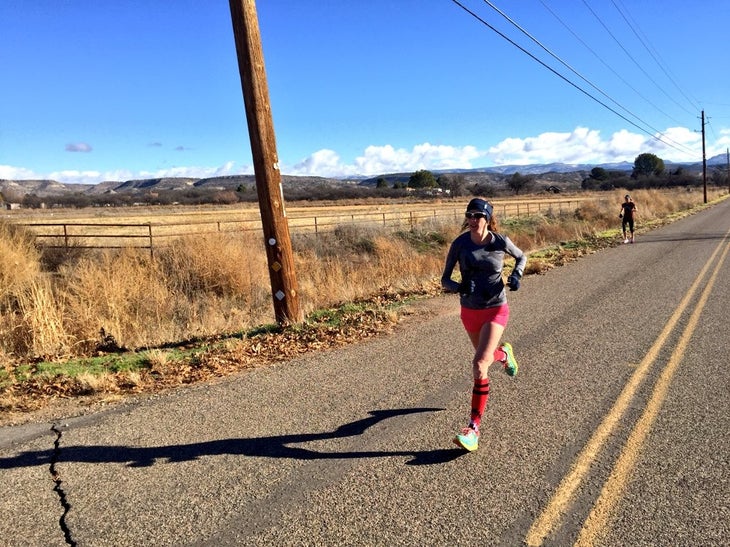 I'm a mom, wife and professional runner. We all have facets of life that define who we are. I've always believed that being good at one makes you that much better in the other. What happens, though, when one role thwarts your progress in another? Today I'm 32 years old, have two kids under 2, and am training toward trying to make an Olympic team. Most professional female runners don't have kids. It's not that they don't won't them; the tough part is choosing when to take a break in your career to start a family. We don't get a typical maternity leave, some sponsors choose to drop an athlete when she gets pregnant, and there's fear your body will never be the same post-baby. These are reasons enough to make women wait until their running careers are over. I chose not to wait and here's how it's been.
My sponsors Oiselle and Hoka One One stayed with me and supported me through my pregnancy. My body took a beating in the last 18 months, and I'm trying to heal it, strengthen it and nourish it. One kid was hard. Two kids within 15 months—almost laughable. Since both my husband, Ben, and I have the same job as runners, the balancing act tips the scale a little heavier on each end. I've been sharing my #journeywithsteph since 2014, when Riley was born. Now two years later, the journey to the Olympic team continues but is getting interesting. We are four weeks out from the U.S. Olympic Trials Marathon, where Ben and my teammates are running. They will run 26.2 miles through the streets of Los Angeles and try to be the top-3 runners to cross the finish line and make the team. I had goals to be on that line. However, on that day, I'll be five months post-partum, and the training that would have gotten me there would have been too risky and not worth it. So my efforts are focused towards the summer Olympic Trials on the track in Eugene, Ore. In 2012, I was eighth in the 10,000m. I'm far from a favorite—but not out of the equation.
Here's the reality that I live in and what will make the journey toward my Olympic team dream it tougher than most.
I have been building back into training slowly and steadily for the past seven weeks. At four months post-baby, I'm running between 50-60 miles a week, with a day off every 7-10 days, and doing strength work three times a week, which includes a daily routine of core stabilization, weekly chiropractic and massage treatments, and daily kegels. My baby was sleeping for fairly good stretches but is now going through the dreaded sleep regression and waking almost every 90 minutes to two hours, with nap times all over the place. When my teammates leave for practice, which involves driving down to lower elevation and a five to six hour block of time, I'm worried about Hudson's eating schedule and when to pump—pre- or post-workout. Moms that are returning to work face this dilemma too, as they are away from their babies for seven to eight hours. Do you duck in the bathroom, a deserted conference room, or in your coach's car on the drive back from the workout? (True story.) There are days when Ben's training takes precedence and I might have to wait to run in the afternoon or cut a run short because the baby woke up. Ben's big race is on the horizon, so sacrifices are necessary. I'm lucky to have a stay-at-home dad to balance the workload with because I know there are some stay-at-moms that deserve more props than are given.
My progress returning from baby #2 has been remarkably better than my first. Perhaps because I know more about how to take care of myself, what exercises to do for prehab, and I have an understanding that the ideal scenario won't always work out—but you can find your own way to make it happen. I've had many fans leave wonderful comments on my posts and pictures of how inspiring my journey is. But really—it's not that inspiring or special. Yes some of my times in workouts have been surprising, even to myself, this close to giving birth, but don't worry—I'm still a mortal mom. I still pee my pants on a few runs, have some pretty gnarly stretch marks and loose skin over my tummy and doubt my ability to make a comeback every once in a while. I feel guilty every time I want to leave Hudson to go train because I feel like it's selfish and I should be with him more.
The inspiration is just raw and honesty. I think the difference is I simply share it publicly so people can see they're not alone in their pursuit of a running goal. From pro runners to the masses, there are strands of similarities among our stories. I might be trying to make an Olympic Team versus someone trying to run under 27 minutes in the 5K, or complete a marathon. Either way we're runners who thrive on being tested, challenged and usually overcome whatever less-than-ideal scenario we face in our lives. So a big shout out to all the mom-runners who know real sleep deprivation and fatigue after a long run, who wear pads to keep from peeing their pants, and who hurry back from a workout so they can breastfeed or pump. So here's to keepin' it real, whatever that means to you, and pursuing our goals relentlessly no matter the challenge.