Our Morning Running Routine Is The Full Day Before The Full Day
Rise at 5 a.m., at the office by 8:30 a.m.—that's a runner's full day before the real full day starts.
Heading out the door? Read this article on the new Outside+ app available now on iOS devices for members! Download the app.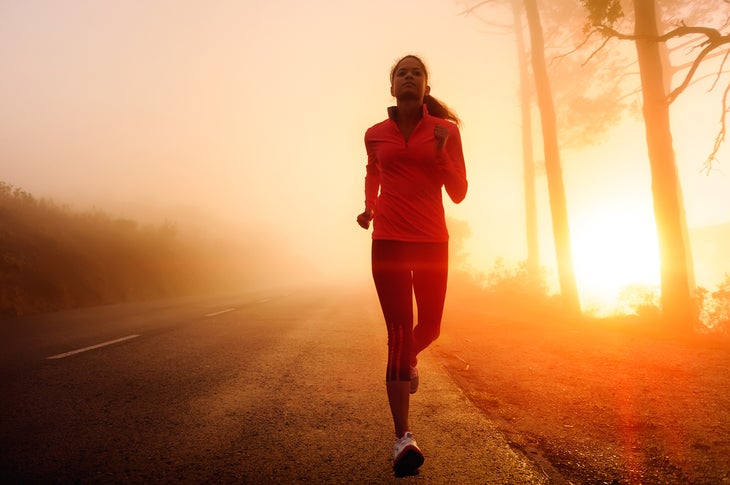 At 5:01 a.m. the alarm rings, but normally by 4:58 my body is about ready for Ingrid Michaelson to start singing "Parachute." And if it's not ready, I likely won't wake up until mid-run. I literally roll out of bed, get my legs through the pair of shorts I have laid out the night before, struggle into my sports bra and drag my body to the kitchen to quickly chug coffee. Then I open my phone and check all the notifications that I ignored since 9 p.m. I have no shame in texting someone back at 5 a.m., mostly because it's super amusing to get the same exact response back each time: "Anoush what were doing up that early!?"
Don't be coy, you all know the answer.
Related: The 5 Stages Of Waking Up For Early Morning Runs
5:45 a.m.
I am out the door. Since investing in a new Garmin I don't have to allot 20 minutes for walking around with my watch on my head, sticking it to metal trash cans, praying I get service before having to meet my crew at 6 a.m. I've always wondered how many people have taken pictures of the psycho chick holding her Garmin up in the air. Now I roll right out, get GPS and continue on my way.
6 a.m.
I've met with my RBF (running best friend aka my lifeline aka my stand-in therapist). We stretch and talk and generally try to push off whatever workout we have for the morning as long as humanly possible. Then off we go. The mornings are reserved specifically for venting, gossiping and catching up on every second of the other person's life that you may have missed and may not care about at all. Highlights include: dropping more F bombs than necessary because we're running and it hurts; picking up the pace any time you talk about someone at work who made you mad; coming to your partner's defense anytime a cyclist turns around to check her out, cusses her out or bikes directly at us in the running lane; and laughing and smiling more than you thought was humanly possible at that hour.
Something I have learned about my female crew is that we never turn down a challenge. Coach gave us 15-20 repeats. We're doing all 20, obviously. Will we complain about how insane it is? Yes. Obviously. Will we probably take a picture and Instagram it with a witty caption about how much it hurt? Definitely. And I don't feel bad about how much running is on my Instagram. I really don't. It tells you viewers a couple of things about me: I have a very uninteresting life, I run a lot and I am very uninteresting. But who doesn't like a good sunrise picture!? In the words of my coworker, "I'm glad Anoush gets up and runs and snapchats sunrise. By 8 a.m., when I wake up, I can look at it and feel like I too ran 8 miles already." You're welcome.
7 a.m.
I may or may not head to the gym to roll out and stretch. Likely I will not stretch. I recently told my teammate I thought I needed to lose some weight in my hips because they're feeling heavy. She immediately responded, "Um I think you mean you need to stretch more." To which I responded, "Um I think losing weight would be the easier solution here."
I hate stretching.
7:30 a.m. Two-minute shower, make sure there is no lingering salt on my body. Roll out and into whatever clothes I have laid out the night before. Douse myself in scented lotion and deodorant and perfume because you can never be too careful. It's unclear when my body stops sweating after a run, particularly in the summer.
7:50 a.m. Makeup has been applied. Okay that's a joke. I might remember mascara. Lunch is packed, coffee in hand, and I roll out the door and onto the subway.
8:20 a.m. Stroll into work, headphones on, blasting "Cool Girl," because little do all these people know, but I've already had a full day.
To the full days before full days and the running partners that get you through them.