Molly Huddle: Boston Bound In Spring 2018
Elite champion Molly Huddle is running her second-ever marathon at Boston—and she could win it.
Heading out the door? Read this article on the new Outside+ app available now on iOS devices for members! Download the app.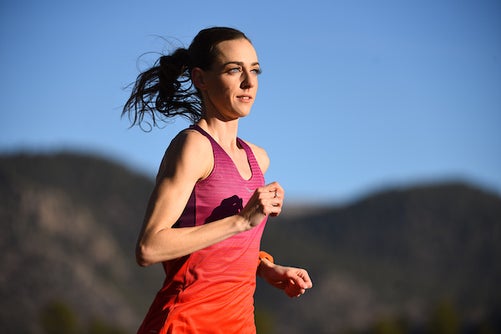 Photographs by Jennifer Stewart
On a brisk Saturday morning in Manhattan last November, Molly Huddle rounded a corner onto Central Park South at a five-minute-per-mile pace, utterly alone. With quick strides in her lime green Sauconys and her blue eyes set with steeled determination, Huddle looked ready to tackle any competitor's challenge—but none came. Of course, she wasn't really alone. Thousands of Manhattanites spectated along the USA Track and Field 5K Championships course, and thousands more thundered behind her. After Huddle raced the last mile to break the tape at the finish line, she had a few moments to herself to let her new course record and sixth race title sink in before the rest of the elite field caught up with her.
One year earlier, Huddle was preparing to deliver a far more grueling race performance, one that surprised many professionals within the running industry—including Huddle. "I had no idea how I would handle the distance and where I would finish," Huddle says of her marathon debut at the 2016 TCS New York City Marathon. Her third-place finish in New York remains her only marathon to date—though with the 2018 Boston Marathon fast approaching, that won't be the case for long. "It was a sign for me that I could do the marathon. Even though the time was a little slow, I was still walking away thinking, I know I can get better. It was a really encouraging start."
Boston Bound In 2018
With her 5K abilities well established and a new marathon challenge on the horizon, Huddle began making her training transition at the start of winter. In mid-January, Huddle raced the Aramco Houston Half Marathon, placing first for American women and setting a new American half-marathon record in the process with a time of 1:07:25. Since the previous American record stood for nearly 12 years after marathon legend Deena Kastor ran 1:07:34 at the Berlin Half Marathon in 2006, Huddle's performance in Houston is notable—and very timely. Kastor, who also holds the American marathon record for women (her personal best is 2:19:36, clocked at the 2006 London Marathon), was excited to hear of Huddle's success in Houston. "I knew it was one of her goals going into the race," Kastor says. "Just as I used Joan Benoit's record to chase in 2005 when I broke the half-marathon record the first time, it was my time Molly was chasing. It always feels good to be replaced in the record books by an athlete you respect. Molly is a beautiful balance of grit and grace, humble with heroic confidence."
Though it's impossible to tell if any of the elite women registered to run Boston will best Kastor's PR, there's no doubt that every single one toeing the start line will try. Huddle's one and only marathon time of 2:28:13 is minutes behind defending champion Edna Kiplagat's 2017 time of 2:21:52 and more than one minute behind Shalane Flanagan's historic first-place finish at the TCS New York City Marathon last November. Even so, her history of breaking records in the 5K, 10K and half-marathon distances coupled with her intensified training for Boston bodes well for the 33-year-old.
Can a runner—even a professional runner—who has previously completed only one marathon possibly win the most influential marathon in the world?
The oldest annual marathon and one of six World Marathon Majors, the Boston Marathon is something of a holy grail for elite runners like Huddle. Though she began racing the marathon distance more than a decade after her professional running career began, it's been a constant presence on her runner's bucket list. "I had always wanted to run Boston, and I didn't really know when I'd get a shot to do it," Huddle says. "I wanted to make sure I attacked it when I still had fresh legs from the track season, and had a really good shot to do something there." After wrapping up last year's track season and discussing spring marathon potentials with her coach, Huddle and her team decided that Boston was a go. "I thought about it for a day; then I was like, Okay, it's got to be Boston. That was before the American women and international fields were known to me. When that was announced, I got even more excited."
Standing at 5 feet 5 inches with the kind of powerful legs and toned arms common for female distance runners, Huddle looks tailor-made for her profession. She's quietly confident, fiercely competitive and carefully calculating, but she's also someone who takes care in picking nail polish designs before a big race and proudly name-drops the New England Distance nonprofit for which she is a board member. Her "pro athlete" uniform is one she wears like a second skin: After all, she's been running competitively since high school, and she's been turning heads on the national level since her first USA Outdoor Track and Field Championships performance in 2006. In person, Huddle is quiet and reserved, but friendly; she weighs her words before speaking but happily discusses books, playlists and other topics about which she's passionate. She seems like any woman who values spending time with art, culture, family and food—until a starting gun fires and her competitive streak kicks into gear.
Molly's Introduction To Running
Growing up in New York, Huddle was surrounded by sisters who all tried running (she's a twin with two older siblings), but she was the only one who stuck with it. Her father, Robert Huddle, ran for the University of Notre Dame in the 1960s. He briefly became his daughter's coach while she was enrolled at Notre Dame High School in Elmira, N.Y., due to the school's then lack of an official cross-country team. "I was inspired by watching my dad," Huddle says. "I remember watching his races and thinking they were cool. Eventually, I jumped into a few road races with him. Then I joined the track team, and it just took off."
During her senior year, Huddle and her father petitioned Section 4, the committee representing her school for the New York State Public High School Athletic Association, to allow her to compete in cross-country events as a one-person team, a move that had ripple effects on Notre Dame High School in the years that followed. Their actions ultimately resulted in a fully reinstated cross-country program in 2014, the first time the school had one since 1987. Serving as the sole runner on a temporary cross-country team with four years of track competitions to her name, Huddle found success with distance running that year, finishing fourth at the 2001 Foot Locker National Cross Country Championships.
First Olympic Trials
By the time Huddle started college at her father's alma mater, she had already racked up several accolades, including state titles, All-America honors and even a few national records for her age group. She continued setting course records and earning honors while at Notre Dame and scored her first Olympic Trials appearance in 2004, when she finished seventh in the 5,000-meter race. "I don't think I even knew what the steps were to get into the Olympics until I was in college," Huddle says. "I loved the Olympic ideals, even from a young age. I was inspired by them."
In the years that followed her first Olympic Trials appearance, Huddle continued competing on the national level at events like the annual USA Outdoor Track and Field Championships and in the 2008 Olympic Trials, finding her racing sweet spots first with the 5K and later with the 10K. Though she consistently placed within the top 10 while competing against athletes such as Shalane Flanagan, Kara Goucher and Katie McGregor, her real breakthrough came in 2010, when she broke the American record in the 5,000m for women at the Memorial Van Damme Diamond League in Brussels. (Her indoor 5,000m time of 14:44.76 has since been broken, including once in 2014 by Huddle herself; Shannon Rowbury currently holds the 14:38.92 record, though Huddle still holds a road 5K record that she set in 2015 with her time of 14:50.) Since then, Huddle has also set American records in the 10K (she ran 30:13.17 while competing for Team USA at the Rio Summer Olympics in 2016) and in the half marathon with her powerful race in Houston earlier this year. With titles and records aplenty—and a possible marathon run at the 2020 Summer Olympics on the horizon—the scene is set for another strong performance by one of America's true career runners.
Sights Set On Marathon Monday
Hedging bets on Huddle's potential to perform well at Boston is one thing; actually getting there is an entirely different conversation. Shortly after her run in Houston, Huddle traveled to Flagstaff, Ariz., to throw herself into marathon training, expecting her weekly distance to peak at an average of 120 miles. "I know there are things I can do better in the buildup than what I did before [the 2016 TCS New York City Marathon]," Huddle says. "For long runs and tempo workouts, [my team and I] are going to try to find similar terrain. I've heard from a few different people that you need to practice downhill running, and find some rolling hills." The Boston Marathon course is known to pose difficulties to experienced runners and new runners alike, and Huddle knows she needs to be ready. "People talk about it like it's a course to be really wary of. You can't go out too fast, and your legs have to be able to take a pounding. I've only run one marathon, so there is that question of, Am I going to be prepared for the downhills and the uphills and the pounding? That's always in the back of my mind with Boston, because it is a hard course."
Following a fueling strategy for marathon training is another consideration Huddle is taking seriously. "The science of the nutrition is really important in the marathon event," Huddle says. "I eat a lot healthier even since college, eating a lot more quality protein." After heeding her own fueling instincts for the New York City Marathon, Huddle decided to design a more structured plan for the Boston Marathon, seeking help from Gatorade Endurance in the process. "They came to Flagstaff to measure my sweat rate and carbohydrate intake, so we'll really be able to pinpoint how many gels I need and how much of the endurance formula I need," Huddle says of the Gatorade Endurance team. "My race-day nutrition is taken care of at this point, and now day-to-day nutrition is what I'm trying to perfect: making sure I'm getting enough high-quality protein to offset what we've been breaking down in workouts and [consuming] enough carbohydrates before long runs." Like most runners, Huddle has chinks in her nutrition armor—most notably when it comes to homemade sourdough bread. "I feel like I have justified it because I'm a marathoner now: You can eat a whole loaf of bread in two days!" Huddle laughs.
Finding the right training vibe is also important to Huddle, and for that she relies heavily on her own cultivated playlists and a rotating lineup of podcasts that are dominated by NPR, with TED Radio Hour and Invisibilia topping her list. Though Huddle prefers to run with training partners, matching mileage and altitude schedules with her go-to running buddies proved difficult for her Boston Marathon training. Faced with months of solo training, Huddle began designing a playlist in mid-January, one she admits could take weeks of tweaking to finalize. "I like to have a playlist for different track seasons and different marathon buildups," Huddle explains. "I like rap, I like dance music, I like alternative music—anything with a good beat that'll help me run harder. Basically, if you want to dance, I feel like you'd probably want to run hard to it, too."
Family Ties
Huddle may be running solo for much of her pre-Boston training, but her family remains a strong source of support through the duration. "My dad still loves to talk about running with me, so we chat about workouts," Huddle says. "When I'm home for the holidays, [my family] knows I have to run; they don't give me flak for it. They understand, which is great because I know some families still don't quite understand running as a professional thing." Her husband, Kurt Benninger, is also supportive of and involved with her training, though he has his own busy schedule to maintain as the head coach of New England Distance's elite team. "When we go to training camps away from my coach in Providence, he oversees the workouts and helps me plan routes," Huddle explains of her husband's involvement. "[Kurt] is basically my team member."
The strength of America's elite women running team is another factor that prevents Huddle from feeling alone while logging her workouts. Flanagan's victory at the 2017 TCS New York City Marathon fueled the fire that women striving to change American culture started early last year, though her performance wasn't the only one of its kind that electrified the women's running movement. "It was an amazing year for American distance running," Huddle says, citing Flanagan's victory and Amy Cragg's bronze-medal marathon finish at the IAAF World Championships as prime examples. "It's an exciting time to be around these women. Most of them are my friends. That's inspiring to see and think, The hard work does pay off. It may take a long time, but it will pay off."
Community Is Key
The friendship shared among professional athletes is a theme we hear often from runners like Huddle, one that's evidenced in moments like the group hug shared by elites in support of cancer survivor Gabriele Grunewald at the USA Outdoor Track and Field Championships last June or the post-race embrace that Emma Coburn and Courtney Frerichs shared after finishing first and second in the 3,000m steeplechase at last year's IAAF World Championships. It's the kind of camaraderie that makes "normal," everyday runners feel proud of their sport and the professionals who represent it—especially when monumental races like the Boston Marathon come around. "Boston is going to be one of the greatest races in our country's marathon history," Kastor predicts, acknowledging the stiff competition in both the American and international fields. "I believe an American can win Boston—and in my dreams, we sweep the podium! It is going to take collaboration and a perfectly executed race, but it can happen." It'll be a challenging race, but, as Kastor says, "Molly loves a challenge. We haven't seen the best of her yet."
When Huddle toes the line alongside elite runners from around the world on April 16, she'll be running toward her own goals, but she'll also be running for something larger than herself. "It'll be cool to line up with a string of amazing American women," Huddle says. "The hope is that one of us will do something big. It's been really energizing to be part of it."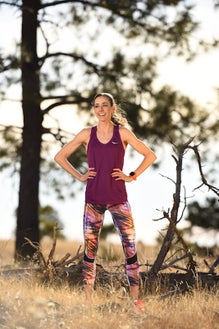 Molly Huddle's Accolades Through The Years
10-time All-American at University of Notre Dame, two-time Olympian, 10K American record holder, half-marathon American record holder.
2001: 4th-place finish at the Foot Locker National Cross Country Championships
2002: National high school record: Adidas Outdoor Championships 2-mile
2007: Became a Saucony-sponsored athlete
2010: American record: Memorial Van Damme Diamond League 5,000M (14:44.76)
2010: Silver medal: USA Outdoor Track and Field Championships 5,000M
2011: Gold medal: USA Outdoor Track and Field Championships 5,000M
2012: Summer Olympics: 11th place 5,000M finish
2013: Silver medal: USA Outdoor Track and Field Championships 5,000M
2013: World record: won United States National 12K Championship (37:50)
2014: American record: Herculius Diamond League 5,000M in Fontvielle, Monaco (14:42.64)
2015: Gold medal: USA Outdoor Track and Field Championships 10K
2016: American record: Rio Summer Olympics 10K (30:13.17)
2017: Three-time NYC Half Marathon winner
2017: Gold medal: USA Outdoor Track and Field Championships 10K
2017: Bronze medal: USA Outdoor Track and Field Championships 5,000M
2017: Course record, sixth title win: USATF 5K Championships
2018: American record: Aramco Houston Half Marathon (1:07:25)

Molly's Boston Playlist
While Huddle's 2016 NYC Marathon playlist focused on Jay-Z ("it reminded me of Brooklyn and being tough"), her current favorite pump-up song is Major Lazer's "Light It Up." Here's the playlist Huddle is listening to during her evening Boston training runs. 
"Get It Right" by Diplo feat. MØ
"D.Y.T. (Do Your Thing)" by NVDES feat. REMMI
"I'm the Best" by Nicki Minaj
"Riptide" by Vance Joy
"Light It Up" by Major Lazer feat. Nyla & Fuse ODG
"Caught Their Eyes" by Jay-Z feat. Frank Ocean
"Malibu" by Miley Cyrus
"Why Don't You Love Me" by Beyoncé
"Hate Street Dialogue" by The Avener feat. Rodriguez
"My Way" by Calvin Harris
"On to the Next One" by Jay-Z feat. Swizz Beatz
"Lay It On Me" by Vance Joy
"Take Ü There" by Jack Ü feat. Kiesza
"No No No" by Beirut
Related:
Behind The Shoot With April 2018 Cover Runner Molly Huddle
Molly Huddle Sets New Course Record At USATF 5K Championship