The Making Of Olympian Brenda Martinez
Running gave Olympian Brenda Martinez her life's purpose—inspiring young girls to persevere and thrive.
Heading out the door? Read this article on the new Outside+ app available now on iOS devices for members! Download the app.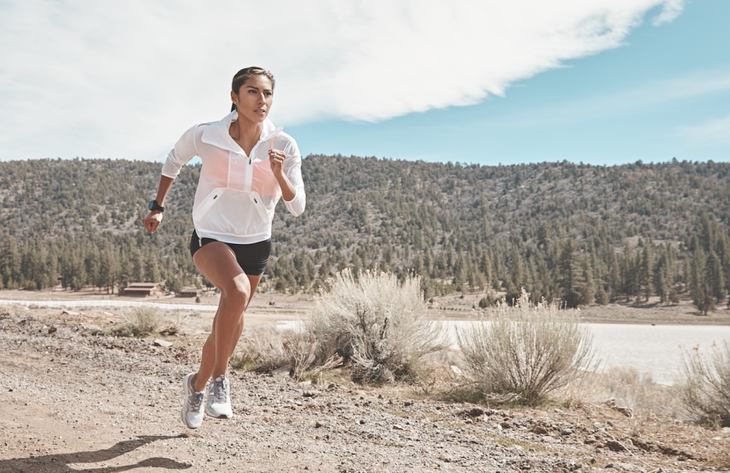 Brenda Martinez was born a runner, but not in the sense you'd expect of a world-championship medalist and Olympian.
"As a five-year-old kid, I was very mischievous and didn't listen to my mom, and a lot of times I would just run from her," says Martinez. "She knew she needed to put me into something to help with my excess energy."
Run It Out
So Martinez's mom, a teacher's aide, and her dad, a landscaper, enrolled their unruly daughter in a kids' track club in their adopted hometown of Rancho Cucamonga, an agricultural town about 40 miles east of Los Angeles. Her parents, Mexican immigrants "seeking a better life," had landed there as teenagers, when the town was mostly just rows of grapevines and open fields. Martinez grew up the youngest of three, surrounded by her "tight-knit" extended family—her grandma, aunts, cousins—living next door. They made do with very little.
"My parents planted that seed in my head that you have to work hard for what you have," says Martinez, now 29. When she started competing in regional track meets as an adolescent, her parents paid for the trips by selling homemade tamales, a traditional Mexican dish. "I remember them staying up all night making them," she says. Other times, they organized a community car wash. When her parents didn't have the money to pay for her track club fees, her coach told her to keep coming to practice. "We have always found a way to get things done in my life, and we couldn't have done it without the generosity of others," she says. 
Coming of Age
In high school, it became clear that running had turned into more than just an energy outlet for a rambunctious girl—Martinez established school records in the 1,600 meters, 800 meters and 2- and 3-mile distances. Her coach, Carlton Austin, told her that if she worked hard enough, she could be the first person in her family to go to college. Maybe she could even get a full ride, he said.
Knowing she wanted to stay close to home, Martinez decided on the University of California at Riverside, where she was awarded a full scholarship to run. After struggling initially to balance the challenges of collegiate running, rigorous academics (she was a sociology major) and being on her own for the first time, she hit her stride by her sophomore year. Martinez began claiming indoor and outdoor school records, from the 800 meters to the distance medley relay, and after racing in Europe during her junior year, started seriously considering a professional running career.
"I was testing the waters, so I did a little race circuit in Belgium and Germany and walked away with a couple PRs," says Martinez. It was just the encouragement she needed. She graduated from UC Riverside as a three-time NCAA All-American and began her search for a new coach—and team—that could take her running to the next level.
Going Pro
Martinez, who married her college boyfriend, Carlos Handler (also a former collegiate runner), before graduation, targeted two different Olympic development groups. Both rejected her. "One coach told me I wasn't good enough and wasn't a championship runner, and the other one just said, 'I can't coach you,' without giving any reason," says Martinez. "I felt really lost and angry."
Handler reached out to his former coach, who pointed the couple to renowned (and then-retired) running coach Joe Vigil, who had worked with the American marathoner and Olympic medalist Deena Kastor. "We just wanted to ask him for names of coaches that could help us, and were surprised when, a couple days later, he called and said he wanted to coach me," says Martinez. "I told him, 'I'll do whatever you say and won't let you down,' and he responded with, 'You better not.'"
Training Hard
One of Vigil's first requirements was that Martinez live and train at altitude, so she and Handler moved to Big Bear Lake, which sits at 6,700 feet but is only about an hour and a half from Rancho Cucamonga. Vigil, 87, is known for his brutally tough, "old-school" methods. "His training is probably the hardest out there," says Martinez. "There are times when I train like both a marathoner and a quarter-miler, but all the workouts complement each other, so I'm maintaining my speed and gaining strength." (Also old-school: Vigil faxes Martinez's monthly training plan to the UPS store down the street from her house.)
Martinez, who shares her workouts online, has been subject to the scrutiny of people who "think I'm a workhorse and maybe train too hard," she says. Still, she doesn't question the training in the least. On the contrary, she credits Vigil's guidance for her bronze-medal performance in the 800 meters at the 2013 IAAF World Championships. She was the first American woman to ever medal in that outdoor world-championship event. (Martinez's result was recently promoted to a silver medal after the runner-up was disqualified due to doping charges.)
Olympic Dreams
More recently, Vigil was pivotal in helping Martinez earn an Olympic berth for Rio. She had hoped to qualify for Team USA in both the 800 and 1,500 meters, but a devastating trip, which caused to her to fall to the track in the qualifying race for the 800, dashed that dream. "I cried, but then I said, 'I think this has to be my story. Let me rest, and let's go make that 1500-meter team.'"
That's exactly what she did. Martinez nabbed the final spot on the team by .03 seconds. And although she didn't have the Rio result she'd hoped for—21st place—she considers the games an experience of a lifetime and even commemorated it with a tattoo of the Olympic rings on her inner arm. "I can call myself an Olympian, and no one can take that away from me," she says.
Spreading the Run Love
Martinez is also deeply passionate about supporting emerging elite runners, and in 2015 created her nonprofit, Big Bear Track Club (with significant support from her sponsor New Balance), to develop future national champions and Olympians under Coach Vigil. There are currently five athletes on the squad, including Boris
Berian, "who went from working at McDonald's to making the world-championship team in two years," says Martinez. "We try to better ourselves every day with the little things—eating better, stretching, getting enough rest—because little tweaks lead to big outcomes."
Indeed, Martinez considers her midday naps an important "part of my full-time job" and savors any downtime collecting and reading books ("a lot of Tony Robbins and Malcolm Gladwell") and walking the couple's four dogs.
From 800 to 13.1 and Beyond
Earlier this year, Martinez was on the world-record-setting team for the distance medley relay at the New Balance Indoor Grand Prix in Boston (she ran the 800), lowering the record she helped set in 2015 at the same event but with different teammates. Her primary focus this year is securing a spot on the 2018 world-championship team for the 800 meters, as she is going to focus on the 1,500 for the next Olympic cycle. After Tokyo 2020, she plans to transition to road racing, targeting the half marathon.
But Martinez hopes her personal legacy isn't attached to a specific distance, time or achievement. What matters most to her is how she can give back to the community and sport that has afforded her so much opportunity. "I will always feel my life is indebted to those who helped me and my family, and it's my duty to give back," says Martinez, who has done shoe drops at the local high school. "Sharing what I have earned is a big part of my life, whether that's developing athletes, doing summer camps for youth or just giving my time to others."
That little girl running with fierce, headstrong conviction still lives within her—only now she carries the hearts and dreams of other girls, pulsing in unison.
It Takes a Village 
Since day one, Coach Vigil, whom Martinez considers "more of a life coach," has drilled in his belief that it's not results or medals that measure an athlete's true worth—it is their character and contribution. "Coach told me that, more than anything, I needed to be a good person," says Martinez. "He said, 'Don't let [the success] go to your head—you've gotta be there for people that believe in you.'" There were going to be a lot of young girls looking up to her when she started running faster, he said, and she needed to take that responsibility very seriously.
"I've always had these talks with Coach Vigil, and about five years ago I called him and said, 'A lot of local high school coaches are asking me to speak to their teams, and I want to do more than that,'" recalls Martinez. He suggested she create an annual summer running camp for girls in Big Bear. Martinez wondered why she hadn't thought of the idea herself—it was perfect.
In 2012, she hosted her first camp after selecting five girls through an essay contest, and for this year's camp she will host 10 girls. "These girls come from all different walks of life," says Martinez. "I try to give them tools to help them not only in running but also in life. We really get to know each other, and these girls can text me with questions about college, running, whatever." Martinez's longtime sponsor, New Balance, has supported the camp since its inception, providing each camper with apparel, multiple pairs of shoes and other gear. Martinez's sister and mom serve as camp cooks, and everyone bunks together.
"I feel like these girls impact me more than anything, and it's a good feeling knowing that I can help them through my running," she says. "Carlos will sometimes pace me on the bike during tough workouts, and if he sees I'm having a hard time, he'll say, 'Think about the girls at camp—how many of them do you want to help?' and it gets me through the workout. I'm doing it for them."
Knowing that a legion of young girls was following her Olympic journey helped Martinez get through the disappointment with resilience and tenacity. "I try to be that example for them," she says.