Lauren Kleppin Is Ready For The Spotlight in NYC
After a breakthrough at the LA Marathon, Lauren Kleppin is ready to toe the line in NYC.
Heading out the door? Read this article on the new Outside+ app available now on iOS devices for members! Download the app.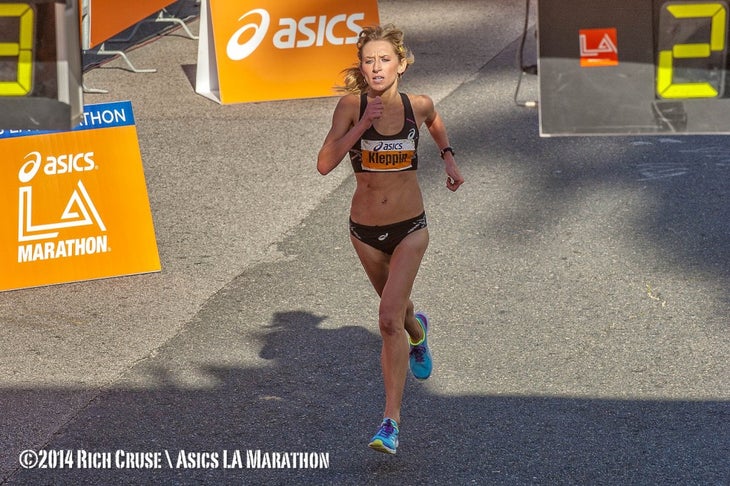 Lauren Kleppin has become a rising athlete to watch and one of the fastest U.S. marathoners this year. After bursting onto the scene with a win at the Carlsbad Marathon in 2013, the 25-year-old began 2014 with a second-place finish at the U.S. Half Marathon Championships in Houston. In March, she ran a 13-minute personal best at the LA Marathon, placing third in 2:28:48. Later that month, she donned a USA uniform for the first time to represent in the IAAF World Half Marathon Championships.
Now she has her sights set on one goal: the starting line of the New York City Marathon. Kleppin, who runs for ASICS Mammoth Track Club under coach Andrew Kastor, has the potential to be among the top finishers at Sunday's race, her first World Marathon Major. Rather than intimidate, the competition excites her.
"New York gives me the potential to line up against some of the best women who are racing in this sport," Kleppin says. "I'm really excited about the field and being able to compete. In the course of 26.2 miles, I'm racing with them on the streets of New York and I have a lot to learn."
The road to New York was not without some minor setbacks. Despite a great summer of training, a small injury left Kleppin on the sidelines of the Rock 'N' Roll San Jose Half Marathon in September. Spending time training on an underwater treadmill, as well as aqua jogging and mountain biking, has helped keep her aerobic fitness strong.
"I have built fitness all summer. I mean I have had solid training leading up to one injury so I'm feeling confident.
Luckily the NYC Marathon's challenging course plays to Kleppin's strengths as well.
"I feel that New York City Marathon may be built for a runner like me. It is a strength course with a lot of hills, kind of a cross-country style. I think training in Mammoth will really help prepare me."
Small obstacles only serve as inspiration for Kleppin. "You have to think that the toughest times are the biggest character builders," she explains. Drawing strength from training is the way she plans to make it through the challenging sections of the race.
"In the middle of a race when you want to give up, you can go back in your training and say 'I made it through that workout. I am tough and I can do this.' I think it is good to have an arsenal of memories."
She also draws strength from the support of Coach Kastor and her Mammoth Track Club teammates. "We train side by side so we're supportive of each other. We all feel the disappointments and the achievements." This was evident when Kastor and teammate Lauren Jimison continued to check in on Kleppin from Chicago, even while preparing for that marathon.
Upon arriving in New York, Kleppin plans to cover the last few miles of training in Central Park. She likes to spend time at the finish line. "It's important to know what you are going to be running toward and have something to look forward to." And she's been planning her race-day outfit. "Gotta look good for race day," she shares with a laugh.
Sunday's race is one step toward Kleppin's goal of a making the Olympic team in the marathon. While the Olympic Trials in 2016 is her long-term goal, she is excited about competing on a world stage in New York.
"I have been dreaming about this since I started my running career. Just to be in New York at one of the biggest marathons in the world is exciting. "