Joan Benoit Samuelson Uses Numbers To Tell Her Historic Story
America's greatest marathoner chases significant, meaningful digits (aka race times) for very specific reasons.
Heading out the door? Read this article on the new Outside+ app available now on iOS devices for members! Download the app.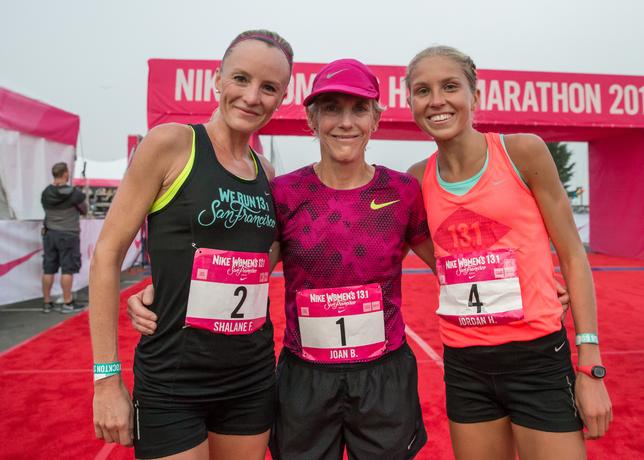 Photo: Nike
"Everybody has a story, and the stories that come with running are what inspire me," says Joanie Benoit Samuelson, the inaugural gold medalist of the women's Olympic Marathon in 1984. "Even I need inspiration at times. Appreciating and recognizing those stories, even if they are mine, helps."
For Samuelson, interconnected stories have been a thread throughout her life. During her formative running years, she wanted to shed the tomboy image that came with enjoying athletics and having three brothers. Yet she loved to run. So she began running at Fort Williams, an old abandoned army post near her home in Cape Elizabeth, Maine. The Fort was closed to vehicular traffic and the high-school track runner could practice unseen and in peace.
Now Fort Williams and Portland Light (the very first lighthouse commissioned by George Washington) are at the finish line of the Beach to Beacon 10K, a race founded by Samuelson in 1998 to benefit children's charities. The course is rich with beautiful views and steeped in history, both fitting for the history/environmental sciences double major.
The storytelling by numbers started in Boston in 2008 at the Women's Olympic Trials. Samuelson was 50 and wanted to end her career where it began back in 1979. To add to the story around the race, her goal was to run a sub 2:50 marathon. She ran a 2:49:08, and upon crossing the finish line, Deena Kastor, Magdalena Lewy Boulet and Blake Russell, the three qualifiers, were there waiting for her.
"I wanted to tell that story, and I succeeded," says Samuelson. "It was a really nice way to end my career. I left feeling fulfilled."
The next year marked the 40th anniversary of the New York City Marathon and the 25th anniversary of the Samuelson's 1984 Olympic Trials. "That story told itself."
In 2010, it was the 25th anniversary of Samuelson's fastest marathon time ever, 2:21:21 at the 1985 Chicago Marathon. Samuelson returned to Chicago because the race was also being run on 10/10/10. "I couldn't pass up those numbers!"
Then it was off to Athens for the 2500th anniversary of the Battle of Marathon. "I thought that any runner with a history and connection to running like myself should be there."
The 2013 Boston Marathon was the 30th anniversary of Samuelson's fastest Boston time: 2:22. She wanted to run within 30 minutes of her 1983 time. And she did, finishing in 2:50.
Then, at the 2014 Boston Marathon, she and both of her children ran with the goal to finish within 30 minutes of each other to celebrate the 30th anniversary of Samuelson's winning Olympic marathon. They did—all finishing with even numbers to boot.
The 2015 Chicago Marathon was to be another story for Samuelson. she wanted to run within 30 minutes of her 1985 time of 2:21:21 to celebrate the 30th anniversary of her fastest marathon time. But the sprightly runner had been under the weather and wasn't feeling race ready, so she didn't end up racing.
"I'm not one to run and wave at the crowds, that's not my style, at least not yet," Samuelson says. "I've never done anything without giving it my full-on effort."
Looking ahead to more storytelling, Samuelson wants to run a sub 3:00 marathon at the age of 60.
"I have two more years to prepare. That's what motivates me."
After that, Samuelson will still be running. "Maybe this is a story for another year—run all the Abbott Majors," Samuelson says. "I want to run a trail ultra too. I can't do that yet in my career, but soon."
Nike ran a campaign with Samuelson in the early 90's with the message, "There is no finish line." Samuelson admits to not completely getting it at first. "Now I realize I'm living it."
Considering her interest in history, it should be no real surprise that Samuelson has also saved most of her Nike-issued race kits, beginning with her days running on Athletics West—that's a 30-year progression of the development of women's athletic clothes! She pointed to more comfortable fabrics and environmentally friendly practices when asked what has changed.
"Tech fabrics, Flyknit construction, less waste and using recycled materials all align with my beliefs," says the 58-year old. "Prevention is to health what conservation is to environment."
What numbers tell your running story? Tweet us your thoughts @WomensRunning!