Is It Time To Set A Goal? Declare It.
On February 4, thousands of women around the world will put pen to paper and take the first step toward reaching their goals.
Heading out the door? Read this article on the new Outside+ app available now on iOS devices for members! Download the app.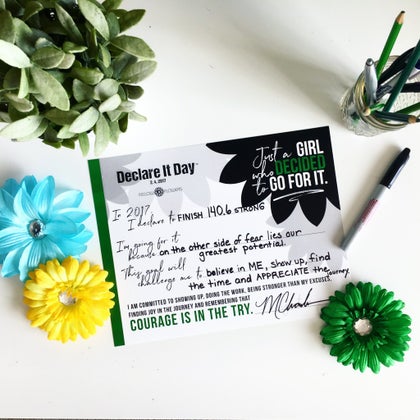 On Feb. 4, 2017, thousands of women from around the country and world will put pen to paper and write down a goal that means something to them—a goal with purpose and intention. This goal setting movement, created by Fellow Flowers, is affectionately known by thousands of women runners as Declare It Day and over the past four years, over 10,000 women have participated.
That is a LOT of goals, but more than that, it is a lot of women willing to be brave.
Because let's be real, goals can be intimidating – especially goals that push us out of our comfort zone. And to write your goal down and share it? Whew. Now THAT brings accountability and commitment to a whole new level.
This is why I love Declare It Day so much. It's a day dedicated to being brave TOGETHER.
Now, if you are that woman who is telling yourself you can't or you aren't ready, hear me out. I believe in you. I believe in the you of THIS moment. Before you let self-doubt talk you out of it and your perceived limits define you, just ask yourself this one question.
Do I have the courage to try?
You might fail gloriously. It may very well be a total disaster. It may also be the greatest adventure of your life. It may also give you a glimpse into your true potential. It may remind you of all the dreams you are still capable of chasing and achieving. And it may take you in a completely different direction, giving you valuable lessons that you can only discover if you step in and try.
Courage has no requirements other than deciding to simply show up and believe in the you of THIS moment. Our courage to attempt—the willingness to step in, try, mess up and begin again—is the only way we'll discover what we are truly capable of.
So here's all you need to do to participate in Declare It Day with us:
Just decide, and take your step one. Write down a goal that means something to you and begin the journey of accomplishing it. Even if you're scared. Even if you're not ready. Even if you don't have all the answers yet.
Just decide and have the courage to begin. You never know what you might be capable of.
Download your declaration and share your goal with us using the hashtag #declareitday.