10 Inspirational Running Quotes from the U.S. Olympic Trials
During one of the hottest Trials in recent history, the country's best athletes made us laugh, made us smile, and delivered up some A+ quotes on what it means to push past our believed limits.
Heading out the door? Read this article on the new Outside+ app available now on iOS devices for members! Download the app.
The U.S. Olympic Track and Field Team Trials are over, and of the about 1,000 athletes who contended for a spot, the best of the bunch have risen to the top. With roughly four weeks until the start of the Olympics on July 23, it's time to begin building that Team USA spirit—and we're starting with our favorite inspirational quotes from the Trials.
Psychologists have pinpointed eight key reasons to why we like to watch sports we are not participants in, like the events at the Olympics: We get self-esteem benefits from it, monetary gains from gambling, bonding with a special person who enjoys it, it offers excitement, it is aesthetically pleasing to watch, it is a venue for emotional expression, it is an escape from real-world problems, and it provides a sense of belonging and connection to a wider world. 
We've rounded up our 10 favorite quotes from runners at the Olympic Trials that give us those feelings of connection, expression, and excitement.
Inspirational Running Quotes from Olympic Trial Athletes
1. After coming in second in the 400-meter final and making her fifth Olympic Team, Allyson Felix reflected on what competing after pregnancy meant to her. With her young daughter Camryn in the stands, she wanted to be a role model on the track. "I just wanted to really show her no matter what, that you do things with character, integrity, and you don't give up."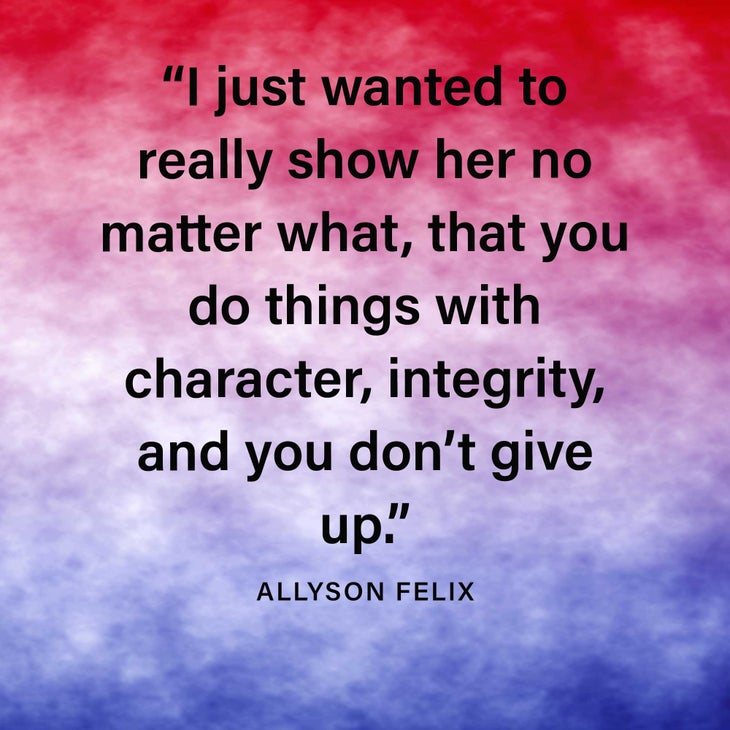 2. Quanera Hayes, first place in the 400 meter final, had a similar sentiment to share with her child and how kids motivate mothers, "Someday they will think, 'She fought 'til the end. She made the Olympic Team. That means I should fight for things and never give up.' It's stuff like this that makes it worthwhile."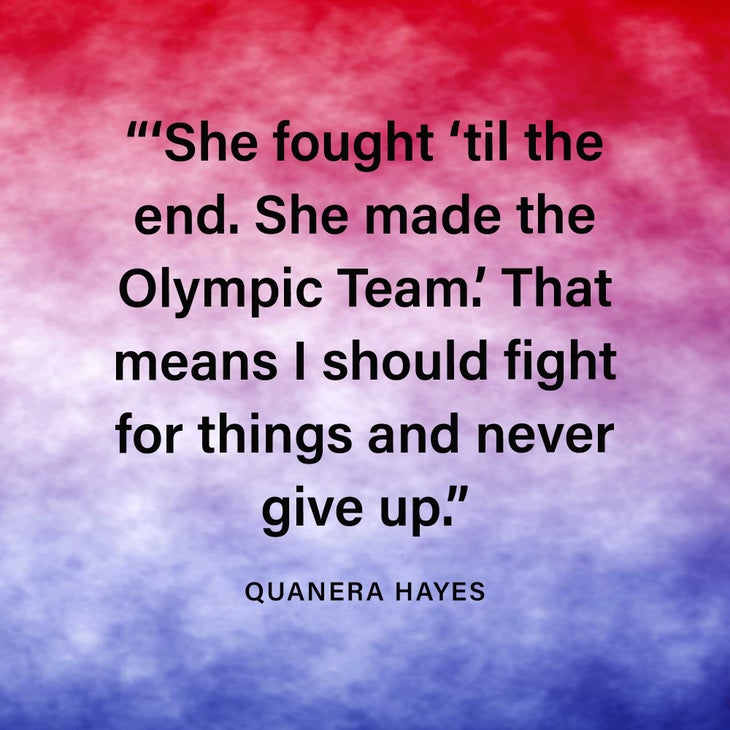 3. Cory McGee finished second in the 1,500 meter final. But even if the race hadn't gone as well as she planned, McGee wasn't going to let anything dampen her spirit. "I told myself when I arrived this week that no matter what happened, whether I made this team or not, my love for running wouldn't change," she said.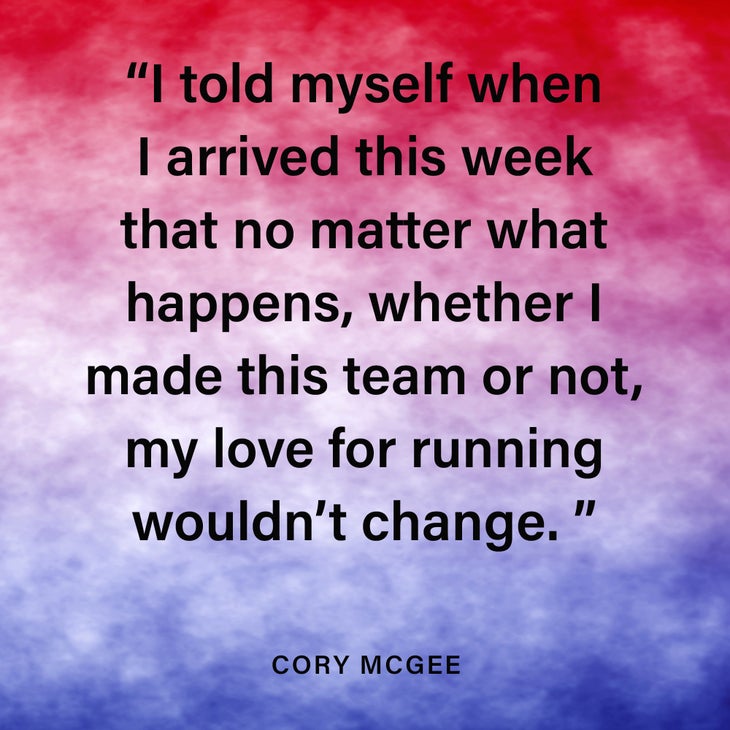 4. Sha'Carri Richardson, 21, caught the eyes of the nation (including Michelle Obama) after winning the 100 meter final and making her first Olympic Team. Fans are drawn to her fast feet (10.86 was her winning time), her fiery personality, and her ever-changing hair color. But she wants people to know that just because she's young doesn't mean she's not ready. "Age doesn't matter," she says. "It's about who has the heart to get to the finish line."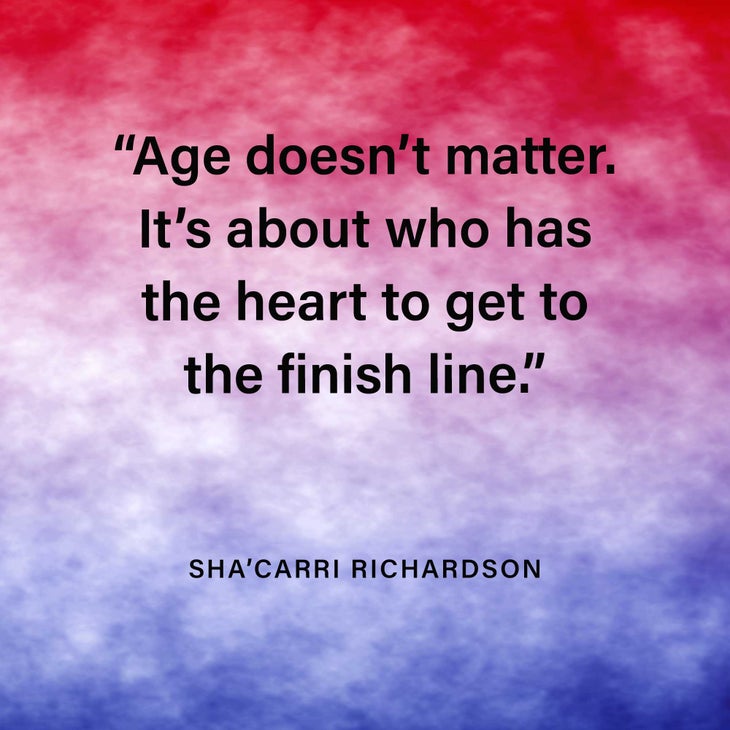 5. The 5,000 meter second-place finisher, Karissa Schweizer, let fans into her competitive fire and what was on her mind as the race was coming to its end. "With a mile to go, we were going to make it hurt," she said.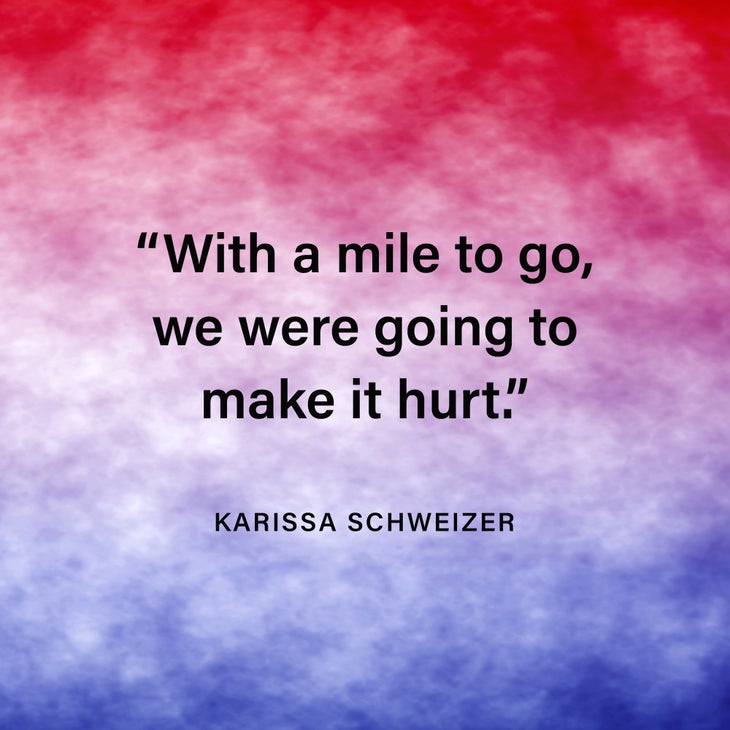 6. We were equally inspired by the women who didn't make the team but competed with vigor and integrity. Leah Falland was making an impressive showing until she fell in the 3,000 meter steeplechase final. Though she got back up, she wasn't able to maintain her spot and make the team, placing ninth. She was upset but expressed that she was not going to let the Olympic spirit leave her. "I feel like I have the heart of an Olympian, even if it doesn't go that way," she said.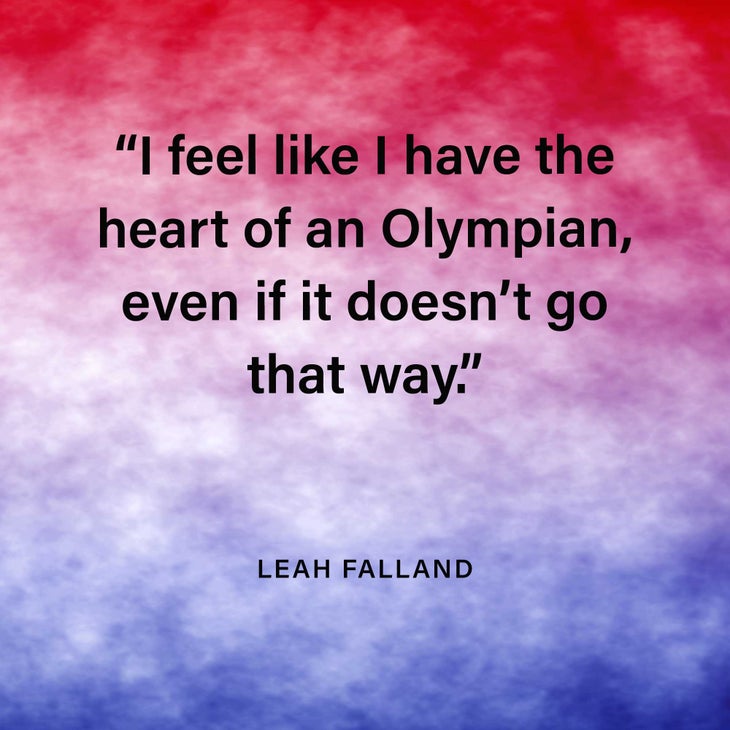 7. After dropping out of the Olympic Marathon Trials last year late in the race, Emily Sisson came back with a vengeance to win the 10,000 meters. Her coach encouraged her to focus on her strength during the race, and Sisson explained: "My strength is my strength."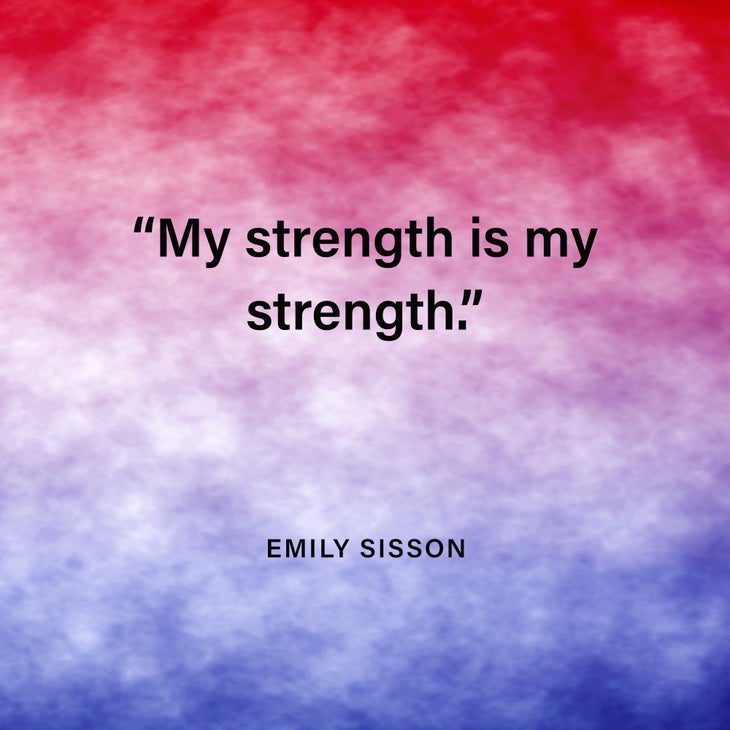 8. Gabby Thomas absolutely crushed the 200 meters, running it in 21.61, a time only beaten by Flo Jo herself. In one race, she achieved so much—but for the Harvard grad, it's just the start. "I'm going to have to start thinking about different goals, different dreams. This was my dream," she said." My dream was to make the Olympic team, not even to win Olympic Trials, not even to break the meet record. Now that I've accomplished those as well, I'm just gonna set higher goals and I'm excited about that."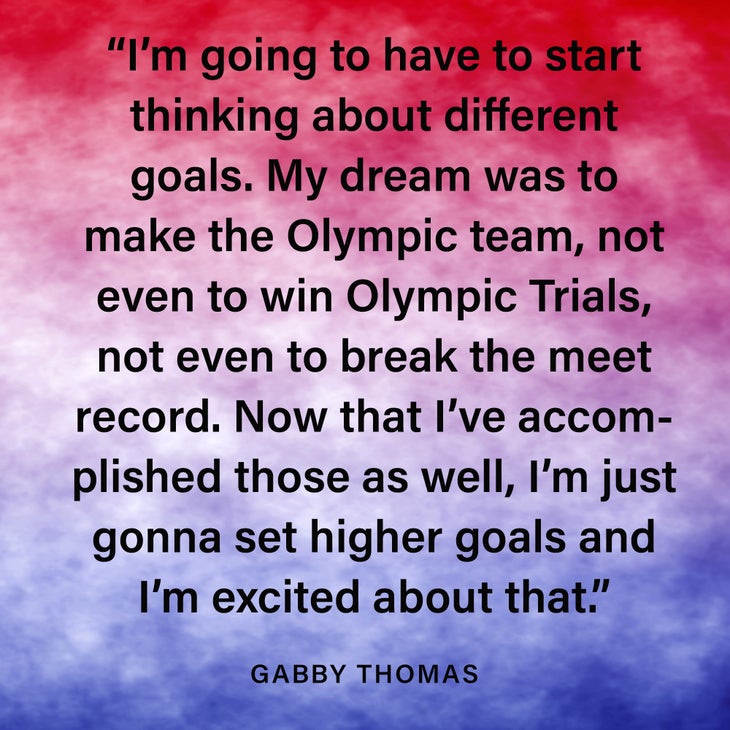 9. There were several Trials records set this year, but Sydney McLaughlin went above and beyond to set a world record in the 400-meter hurdles. The race, coming late on the last day of the Trials, was a thrilling way to cap off the journey to Team USA. "Waking up today, I knew it was going to be a great day. I will cherish this for the rest of my life," McLaughlin said. Her quote reminds us to seize the good days when they come.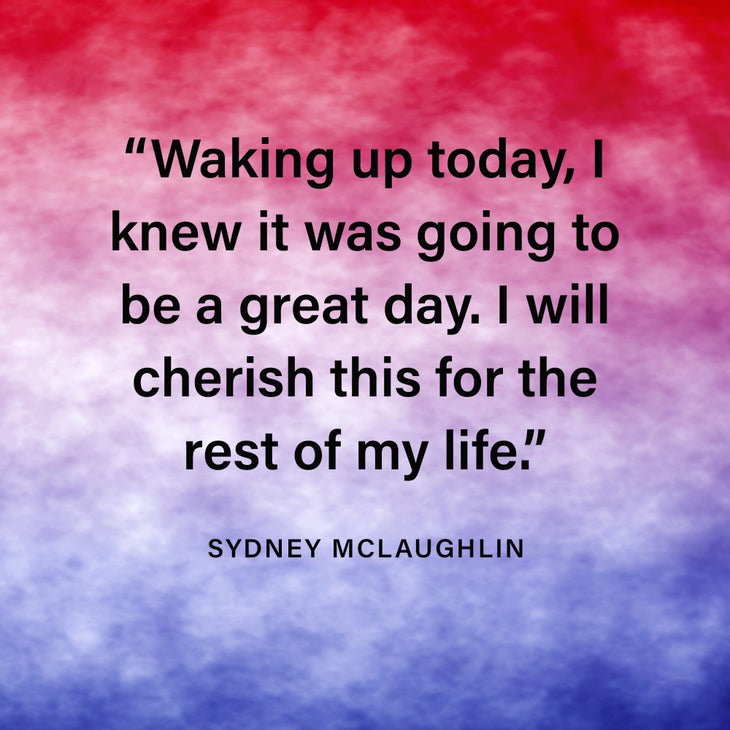 10. Wadeline Jonathas placed first in her first-round heat for the 400 meters and said she felt empowered after the race. "They're talented and so am I. It's a fight, and I'm just going to keep putting my best foot forward," she said. "It's a fight, I have to go ready. And I'm ready." She absolutely was: Jonathas made the Olympic team two days later.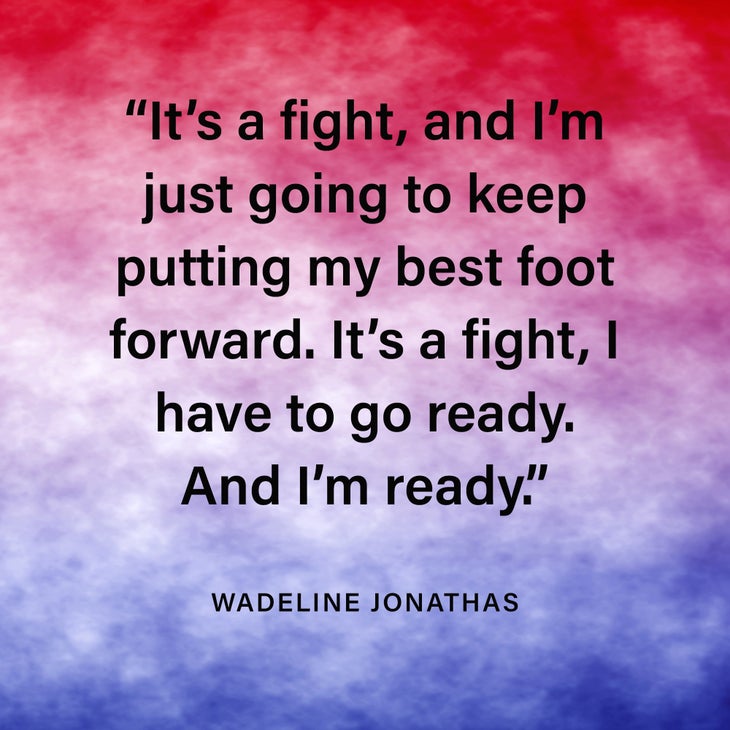 RELATED: