How One Runner Guided Another To A Huge PR!
One runner shares what it is like to protect a friend through 26.2 miles.
Heading out the door? Read this article on the new Outside+ app available now on iOS devices for members! Download the app.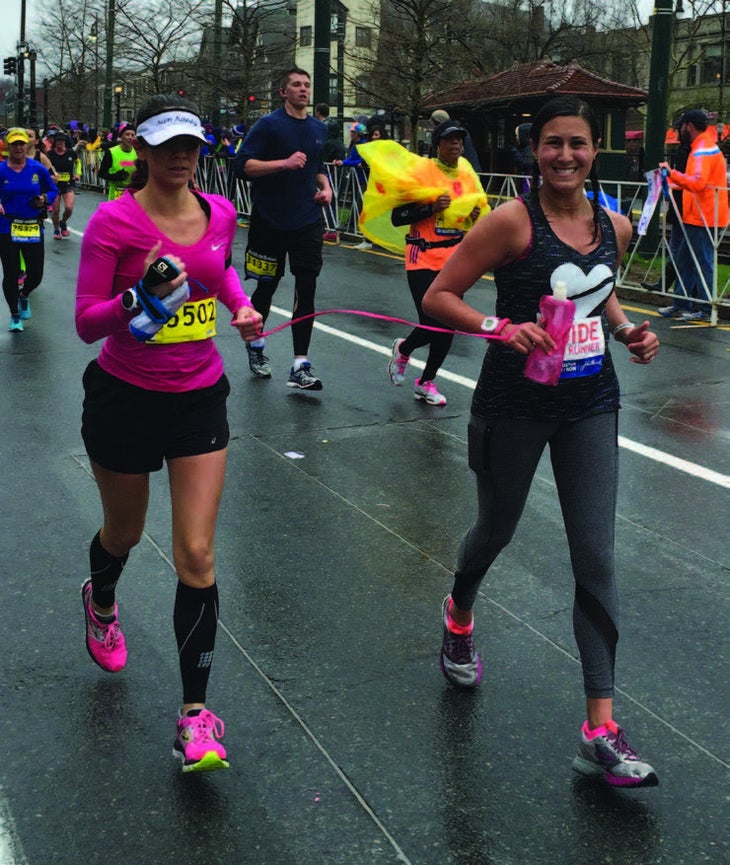 Sammie Nunziata
Age: 27
Oakland, CA
Runner Guide
As Sarah and I found our corral and waited for the start at the Boston Marathon, I kept telling myself that I was strong enough as a runner to take care of someone else's needs. As a first-time guide, it was nerve-racking thinking of all the what-ifs. I wondered, What happens if I crash and hit the wall? Pushing the thought out of my mind, I told myself: You can't hit the wall. Your job is literally to protect someone. Instead, I filled my mind with positive affirmations knowing that I needed to be strong over the next 26.2 miles.
I took my job seriously and wanted to set the tone for a great race. I alerted runners ahead we were coming and scanned the road to make sure Sarah wasn't in danger of tripping. The entire first half of the race went extremely fast as we laughed along the way.
We continued running and soaked in the electric energy of the spectators who lined the entire course. Full of pride, I watched Sarah cross the finish line just before me, feeling excited and relieved that I was able to help get my friend safely to the end. We spent the remainder of the afternoon celebrating over multiple desserts!
I learned that when I turned my attention to helping another person fulfill her running dream, nothing else mattered. Knowing that she was grateful for every mile gave me a sense of gratitude for my own ability and renewed my love of this sport.