Fitbit Is Saving Lives One Step At A Time
Fitbit partners with Dana-Ferber Cancer research to find out if exercise is the cure for recurring breast cancer.
Heading out the door? Read this article on the new Outside+ app available now on iOS devices for members! Download the app.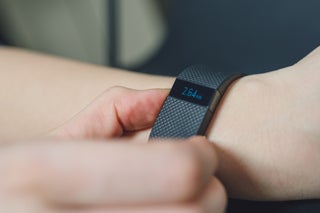 Fitbit is now doing more than counting steps—it's counting victories. Saving lives one step at a time, Fitbit has recently decided to partner with Dana-Farber Cancer Institute and Research to see if exercise can stop recurring breast cancer. Dana-Farber is calling this partnership "potentially ground-breaking" in health research and could help to save countless lives lost to recurring breast cancer.
"If this study shows that losing weight through increasing physical activity and reducing calories improves survival rates in breast cancer, this could lead to weight loss and physical activity becoming a standard part of the treatment for millions of breast cancer patients around the world," said Jennifer Ligibel, MD, a breast oncologist at Dana-Farber and lead investigator of the trial.
The breast cancer weight-loss study will enroll 3,200 women that fit the profile and with early stage breast cancer to test whether weight loss can help prevent the cancer from returning. Fitbit is donating their products to the research team in hopes of helping participants stay motivated and engaged while tracking their weight loss journey. Fitbit will also allow the participants' coaches to make sure the women are meeting their fitness goals.
Excess body weight has long been linked to recurring breast cancer, and both Fitbit and Farber are optimistic about the change their partnership can have on the lives of hundreds of women. The study will take a total of six years and begins August of this year.
"We are thrilled to partner with Dana-Farber Cancer Institute on this type of intervention research," said Woody Scal, Chief Business Officer of Fitbit. "And potentially helping reduce the terrible burden of cancer for millions of women and their families worldwide." Fitbit is making it known that their products aren't just for women hoping to get ready for swimsuit season, they are meant to help women live life to the fullest, and, in some cases, just live.