Should I Go On A Run–As A First Date?
Etiquette expert Lizzie Post as tips on how to handle potentially awkward situations–including first dates that involve running.
Heading out the door? Read this article on the new Outside+ app available now on iOS devices for members! Download the app.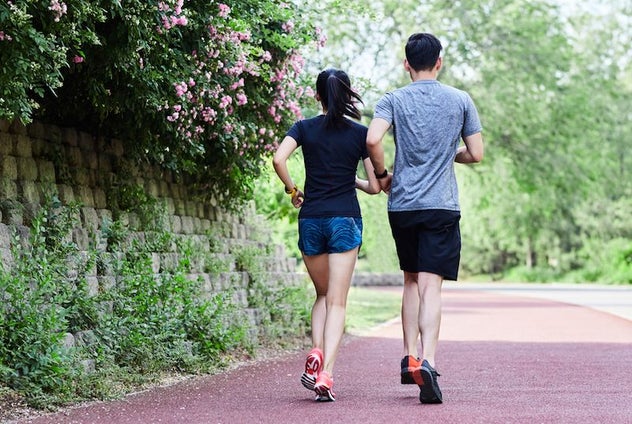 Etiquette expert and runner Lizzie Post knows a thing or two about the rules of the road. The great-great granddaughter of etiquette's original reigning queen, Emily Post, has tips on how to handle situations that have the potential to become awkward–including first running dates.
Related: 9 Reasons Why You Should Go On A Running Date
I'm thinking of going for a run on a first date. What's your take on whether that's a good idea?
It's a fun idea! I went on a first-date run and it was great. Here are some things that I considered:
Safety first. If this is a date with someone you only just met, set up checkpoints with a friend—usually just a text or call to or from you by a certain time—and give your friend any possible info, such as your date's name, phone number and description, as well as the route you're running.
Running style. I do a run/walk combo. My date had run marathons. So I asked that we stick to what works for me. No matter which of you can endure a longer, faster run, go with the pacing of the person who is slower. No need to take someone out of their comfort zone on date one.
Choose a route ahead of time. I made sure I knew where we'd be and that I was comfortable with the area both for safety and for my enjoyment of the run.
But what about the sweat? We knew we'd be running in the August heat, so I didn't worry about sweating—that's just part of this date. But I did bring a change of clothes and shower stuff, so that I was at least prepared if somehow the option arose.
Eventually our run turned into a very long walk, which was wonderful. It was such a nice atmosphere to get to know my date. It didn't result in a relationship, or even a second date, but it's still one of my favorite firsts.
Related:
25 Thoughts Every Girl Has Before A Running Date
The Secret To Choosing The Right Running Partner