Mirna Has The Best Response For One Hater Calling Her Fat And A Fake
Mirna Valerio has the most beautiful response to one hater who said some terrible things to her.
Heading out the door? Read this article on the new Outside+ app available now on iOS devices for members! Download the app.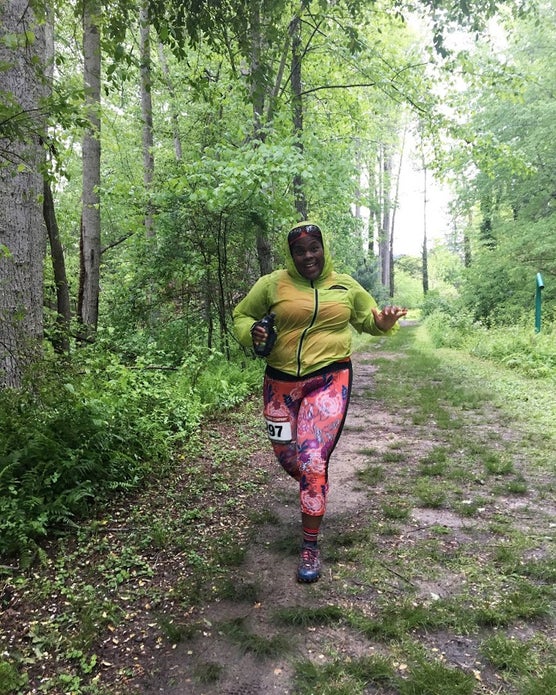 A few weeks ago, I was 28 miles into my first 50K distance of the season at the Black Mountain Monster 6/12/24 Hour Race in North Carolina. I was elated to be near the finish, as the run had been particularly challenging. A cold, relentless rain pounded us during most of the event, and a fierce wind chilled us to the bones. We slopped through muddy trails on inclines that became less cute during each ensuing loop of the course, but we soldiered on. Some had time goals, others tried out new distances, yet others used the closed course as a long training run. I had the 50K distance in mind as a training run for the Trans Rockies 6-Day, 120-mile jaunt in Colorado later this summer.
I was stoked. My good friends Kelly and Ariel had joined me for my last loop, and we walked the course briskly along with Kelly's black lab, Paddie (who would later steal a cupcake from out of my tent).  The time was really special. We chatted, cheered for folks who passed us, and offered words of encouragement for those who were struggling. We reminded each other that we needed to hang out more—maybe next time not in sleet and gale force winds.
A little more than a mile from the finish, I picked up my phone to snap a few last photos and videos for my long Instagram story chronicling the trials, tribulations and successes of the many hours that I had been on the trail. I noticed that there was a notification for an email message on my work email account. What now? Don't they know I'm at a race? Geez!
I rolled my eyes, slightly annoyed. Was it a student looking for me when I wasn't on dorm duty? A colleague asking a question that can wait until Monday? My son wanting to know if he could borrow money from someone until I returned home? None of the above.
The hateful message
I looked at the subject line. "Running," it read. Oh, ok. Maybe it's my publicist sharing something with me, or someone reaching out in response to the CNN piece that aired a few days ago. Some people don't do social media but know how to email and will often find my address at work via the school website. I looked to see who the sender was and it was a name and email I did not recognize. I read the first line and gasped.
You are a liar and a fraud. F–k you!
Wait…what? This must be spam. Nothing like this ever passes through my school email. Ever.
I stopped and read the rest. It went on to say the following:
You are not a runner. You have never once revealed any actual time completions of these so called marathons you run. I have seen your few videos where you actually pretend to run. What a joke! You are moving no faster than what I can walk. You expect people to actually be stupid enough to believe this s–t. A true professional runner is not overweight, which is what you are. A person who runs marathons for a living is not overweight, which is what you are. F–k you! You want to further fat acceptance and people to kill themselves in your perverse idea of beauty. F–k you!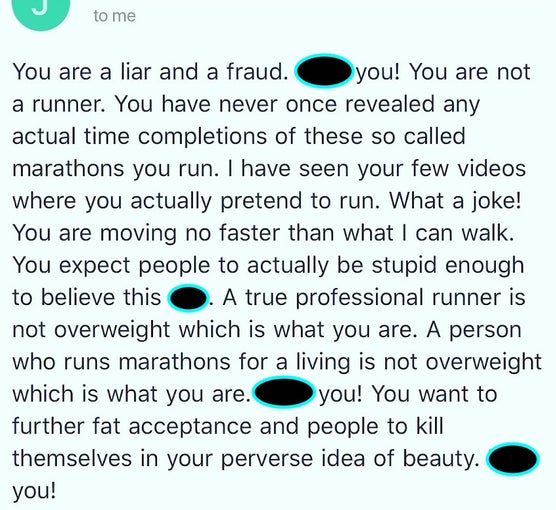 Huh? I asked myself. Wait…what?
Related: An Uber Driver Called Me Fat And I Wasn't Even Mad
Someone, probably after reading or watching something about my running journey in the media, had taken some effort to look up my place of employment and my work email in order to send me this vicious and accusatory message. It hurt a lot in the moment. The moment that I was at a race, finishing up a 50K, doing precisely what that person said I was faking. But also at that precise moment, I was surrounded by my beautiful trail-running friends and a bunch of cold and muddy runners who found it in themselves time and time again to say a nice word or two even when they weren't feeling great. I would discover, within 5 minutes of posting this nonsense on Instagram, that I was virtually surrounded by an ENTIRE community of folks around the world who did not share this troll's view.
Runners' responses
The response was quick, incredible and heartwarming. And the hundreds and hundreds of extraordinarily positive and supportive comments were proof that our running community is filled with people who are generous human beings who want and need to do good in the world. The good they did that day and afterwards was overwhelming.
Here are just a few of the awesome comments I received within just a few minutes:
You are an inspiration to women of all speeds, shapes and sizes! Thank you for being beautiful you!
Forget that guy. You are awesome! Just look at all the love on here. Real runners support each other.
You inspire so many people and you are a true athlete. Thank you for sharing this and for everything you do. Your followers are all behind you with so much admiration for you. Keep going strong xxx
What I love most about this community is the love and support we give each other. There's absolutely no place for that kind of hate.
You're amazing. I've never once thought about what your times were, because your times don't matter. It's the fact that you're out there doing it. Go you!!
Well none of that is true. You are a runner. You are an inspiration. You are amazing! I'm sorry you received this e-mail. Your strength and courage to share this is beyond words. Please keep running. Please keep sharing. And please never give someone like this space to influence or impact you, because they don't deserve the time of day from you.
Related: Why You Should Check Out Fat Girl Running Blog
Mirna's response to the message
Friends, these messages weren't just for me. They were for all of us, the entire community of beautiful human beings who love to run and do whatever it is they do, with focus, determination, an expansive heart and welcoming spirit. And it is in that spirit that I offer this response, albeit with some necessary sarcasm:
You are not a runner. I am a runner, whose events and times are all public on Athlinks and Ultrasignup. You, whoever you are, don't get to decide who is a runner and who is not. You have no such power over anyone but yourself.
I have seen your few videos where you actually pretend to run. I have a lot of videos, so yeah, not just a few.  And who goes out of their way most days of the week to dress up in running clothes and shoes and goes out in all kinds of weather to pretend to run? Yeah. No such time on my hands. I run for real, bro, slowly, but for real. Maybe you can join me? You can walk, and I can run (see below).
You are moving no faster that what I can walk. Since I determine my own success (by the way, it's by distance, not pace for me), this phrase doesn't mean anything. It is empty. I live for distance, and that is what fires up my running soul. Also, I'm glad you can move faster than me. Good for you! I invite you to find something that fires up your soul too—perhaps it is walking fast?
A true professional runner is not overweight which is what you are. Firstly, where did you hear that I'm a professional runner? Before you make assertions, you might actually want to check your facts. I'm a teacher. I teach Spanish. I do diversity work. I coach my school's cross-country team full of young people who love to run and their love and determination overflows into other areas of their lives.
I don't get paid to run, but what a great idea! Maybe I should strive for that? Or maybe I should just continue to run because I love it, and because the running community is wonderful and embracing of all types of runners, and I'm a proud, card-carrying member. Also, I know that I'm fat, which is what I am. That's why my blog is called Fat Girl Running.
A person who runs marathons for a living is not overweight, which is what you are. Again, I don't do this for a living. Where'd you get that idea? I'm a teacher, remember? You emailed my SCHOOL address, right?  However, I do live to run.  And running is the fitness-center of my life. Also, we've already agreed that I am fat.
You want to further fat acceptance and people to kill themselves in your perverse idea of beauty. If you actually knew me, which you clearly don't,  you would know that what I do in my job and in my personal life is the same: it is my life's work to further acceptance, embracing, and love of people regardless of who they are. That is why I am a teacher. This is why I share my running life and dreams with the world.
And I'm not sure I understand the second part of the sentence. What is a perverse idea of beauty? You don't decide who or what is beautiful or what is perverse, and neither does society. (However, there is one exception—everything you said in that email to me is perverse and disgusting. I think that can stand as a universal truth).
Lastly, I am beautiful. The entire running community is beautiful. And we determine that. Not you.
Final words to the haters
Dear trolls and other naysayers/haters/shade throwers,
Let this be a lesson to you. You cannot police the Internet with your nasty words. There are far more good people in the world than you. We will fight back with kindness, and more running. You cannot destroy the happiness and wholeness of others with your poorly thought-out arguments and jabs at people you don't even know. Maybe get out for a run? You cannot and do not determine success for others. You also cannot and do not determine who is beautiful and who is not. It doesn't work that way, especially when you are irrelevant. You cannot destroy me, my success, my happiness, or my wholeness. I am too strong for that, and so is my running community.
By the way, thanks for the followers!
Yours truly,
Fat Girl Running