Courtney Dauwalter Wins UTMB in Grand Finale to Historic Summer
The GOAT of trail running completes unprecedented hat trick of winning Western States, Hardrock, UTMB in one summer
Heading out the door? Read this article on the new Outside+ app available now on iOS devices for members! Download the app.
In hindsight, Courtney Dauwalter had 50 miles left of racing in her legs this summer when she toed the start line of the Ultra-Trail du Mont-Blanc on September 1. But she had 106 miles stuffed with 30,000 feet of climbing to go. In characteristic Dauwalter fashion, she tuned out her revolting body and approached the miles ahead with curiosity. But by the time she reached the idyllic Swiss resort town of Champex Lac at 127 (79 miles) a couple hours after sunrise the next day, she was physically spent. She wasn't having fun, or even Type Two fun. She was ready to be done.
"I just wanted to muscle through and I really wanted to finish no matter what time I was coming in," Dauwalter said. "I didn't know if I would have to really triage at an aid station for a while or if I could keep moving as best I could."
As is so often the case during this era of Dauwalter dominance, it proved to be the latter.
Physical strength is only a small variable for Dauwalter, the 38-year-old Leadville, Colorado, resident who runs for Salomon. Ever cool and calm, her husband and crew chief Kevin helped her problem-solve a churning stomach in Champex. Her parents and the rest of her team lifted her spirits. And as a fatigued aerobic system forced her into a hike and blown quads sent her teetering down the descents, sheer willpower pulled her to the finish—and her third UTMB win.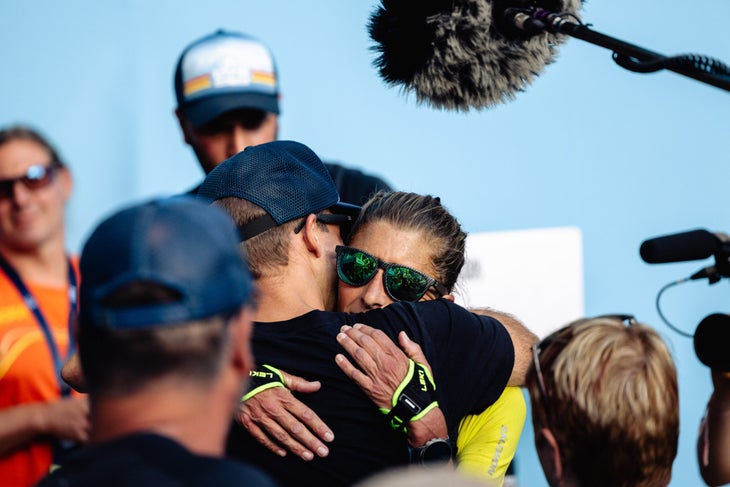 Dauwalter's victory is historic in its own right. But it's nearly incomprehensible in the context of her summer. In June, Dauwalter won the 2023 Western States 100, shattering the seemingly untouchable 11-year-old course record by over an hour. She backed up that legendary performance with another course record at the grueling Hardrock 100 three weeks later. And by winning UTMB on September 2, Dauwalter, the indisputable queen of ultrarunning, completed her sweep of the sport's most prestigious triple crown.
It's a monumental feat that's only been accomplished by trail running royalty over the course of a lifetime, namely Kilian Jornet and Dauwalter. In 2007, American Nikki Kimball won Western States and UTMB two months apart but didn't compete in the Hardrock 100. In 2012, Krissy Moehl completed all three races, finishing fourth, fourth and 14th, respectively. By becoming the first and only person to accomplish the hat trick in one summer, Dauwalter catapults herself into another realm. And what's crazy is that she's doing it at a time when women's ultrarunning is more popular and competitive than ever.
How Fearless Curiosity Fueled the Hat Trick
The question hovering over Dauwalter's nimble toes and bright smile is why attempt this seemingly impossible feat at all? She attempted to answer that question at the finish line.
"You can't triple unless you try," Dauwalter said. "Any time we're given the opportunity to try something difficult or crazy, we should absolutely take it. This was totally crazy and really, really difficult, but worth it."
When the gun went off, Dauwalter tuned out those two incredibly high-effort hundreds in her legs. She ran with the lead women until pulling away after four-plus hours on the imposing Col du Bonhomme (44K, 27 miles) as darkness descended over the Alps.
RELATED: The Secrets of Courtney Dauwalter's Success
She looked relaxed until the sun rose, when the light of day revealed the wear of the summer's collective miles. Dauwalter nearly lost her lunch, or perhaps more accurately dinner, in Champex Lac. By the time she passed the iconic pink church in downtown Trient at 143K (89 miles), her lips laboriously curled into a smile for the hoards of fans waiting to greet her with "We love long inseams and candy" signs and cardboard cut-outs of Dauwalter's staple long, baggy shorts. She leaned on her poles over the final three climbs that bring runners over from Switzerland and back into France. She wobbled down the hills. But she forged on with her characteristic efficiency, tenderly making her way around the rocks and roots of the final descent and forcing the thousands of fans watching the livestream to hold their breath in desperate hope that she would stay on her feet.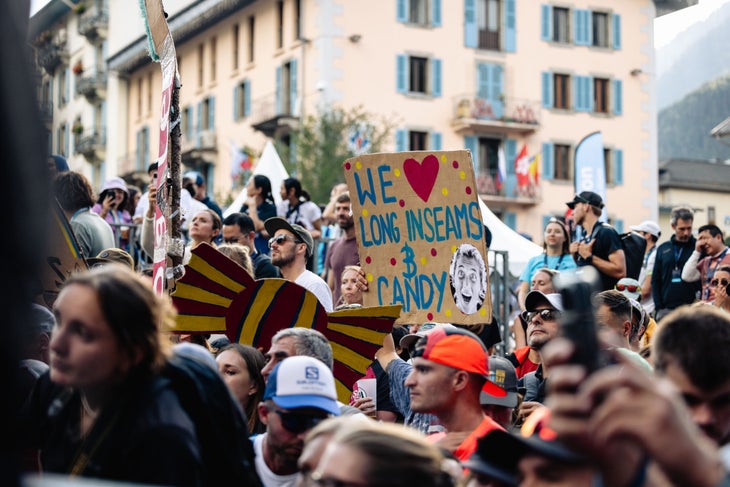 Stay on her feet she did, and Dauwalter's pep returned as she rounded the streets of Chamonix. She grinned ear-to-ear as she high-fived fans and clapped her way to the finish line and a third win here. She's the second woman to win UTMB three times, trailing the UK's Lizzy Hawker.
Nearly an hour behind Dauwalter, the battle for the remaining two spots on the podium forged ahead. Ultimately, it was Katharina Hartmuth of Germany, who followed up her win at the 78K world championships this year with second at UTMB. Blandine L'Hirondel of France made a late surge to surpass China's Fuzhao Xiang for third. Leah Yingland and Sabrina Stanley of the U.S. ran strong and consistently to place two more Americans in the top 10 with eighth and ninth, respectively.
Dauwalter won just over three hours after Jim Walmsley broke the American men's UTMB title curse, leaving no doubt that American trail running is a force to be reckoned with on the global stage. Combined with Katie Schide's runner-up showing in the OCC 50K, third-place finishes in the women's and men's CCC 100K races by Helen Mino Fauker and Dakota Jones, respectively, plus several more top 10 performances, it was by far the best UTMB weekend for American runners in Chamonix ever.