Brand Manager By Day, Olympic Dreams By Night
A hectic job and wedding planning don't get in the way of Carrie Birth's super serious marathon goals.
Heading out the door? Read this article on the new Outside+ app available now on iOS devices for members! Download the app.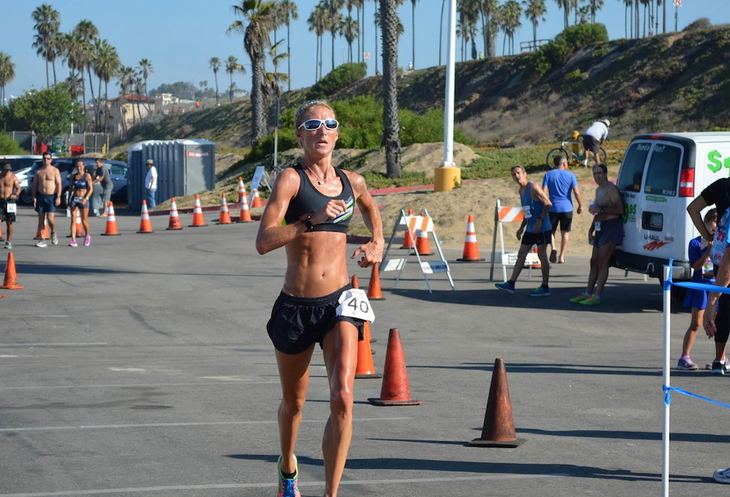 A high-pressure job and wedding planning doesn't stop Phoenix-based runner Carrie Birth from dreaming big. She picked up running after playing college soccer to fill a competitive void—and because, as she says, "Timing myself in the shower and at the grocery store was getting old fast." Birth soon fell in love with the sport. A decade later, she is gearing up to qualify for the Olympic Trials in 2016. We caught up with Birth, a member of the Sonoran Distance Project, to find out what it takes to balance real life with elite-level marathon training.
What is your current running goal and why?   
To qualify for the Olympic Trials in the marathon. Sometimes the "when" in life is not your decision. But the "what" is—and I WILL do this. I am going to do this for two reasons. Firstly, to prove that we should never let any injury, illness, etc. define us or stop us from chasing our dreams. Secondly, for all the people who have said, "YES you will" (my mom, my sister Kate, my amazing fiancé Justin, my physical therapist Becky, mentors, coaches) and for anyone and everyone who believed in me when I did not.
Why do you run?
I think in life we all have things that make our eyes light up, our heart beat a bit faster, our step a little giddy. For me it's running. I love to do it, train for it, coach it, talk it. I love everything about it. There is something about passing through this beautiful world we live in relying just on my body as your vehicle that is empowering, satisfying and gratifying to me.
What in your life helps you to dream big?
People who dream BIG are tough as nails, because in order to do so you fall flat on your face a lot. So I am rather "tough." I know how to fall, and pick myself up over and over again. After awhile the bruises don't hurt so bad!
What's the top tip you have for runners who want to race faster?
I believe in a strong base, the more mileage you run, the more efficient your body becomes, and you naturally become faster. It's the safe way to get speedier.
Do you have a pre-race ritual?
Oh dear, this is where the world sees how psychotic I truly am…I eat my lucky PB sandwich for lunch the day before and then for dinner, plain pasta with no sauce. I go for a 2-mile walk, do my hip exercises, and I always dedicate my shoes (Skechers GO Meb) to someone. No matter how big or small the race, every pair of racing flats is dedicated to someone. In the worst parts of the race, I plow through for them. The next morning, I wake up, do my prehab routine, eat my almond butter on bread, drink Nuun, drive to the race and warm up. The last thing I do is look up at the sky and say, "Wow!"  (for my mom). Then I RACE!
How do you balance your life while concentrating on training? 
It's been a process, and I mean, I cannot lie, there is a mental breakdown about once a month! But it comes down to extreme discipline.  I have literally ever hour of my life planned out between the mileage, body work, strength work, recovery, sleep, full-time job with travel, wedding planning, coaching it's…insane. But I pride myself in never appearing too stressed or telling people I am "too busy." I am full and happy. And if I cannot do it, that's okay, it will be there tomorrow to do.
What's the biggest lesson you've learned as part of the Sonoran Distance Project?
That dreams cannot be accomplished alone. I have a teammate, Kerry Camberg, who I call "Camper" because she is a perfect camper. She takes all news in stride and makes the best of the situation. I have had a tough year with a sprained ankle for five months, strained hip flexor for another month, and she was the first to reach out and check in. She wouldn't let me give up or give in.  I tend to internalize during injury, and she taught me you need the team most when you are NOT running. You can do things alone, but you can thrive when you do things together. This team is one of the best things that has ever happened to me.