6 Types Of Winter Runners You'll See In The Wild
There's all sorts of creatures lurking around outside in the winter.
Heading out the door? Read this article on the new Outside+ app available now on iOS devices for members! Download the app.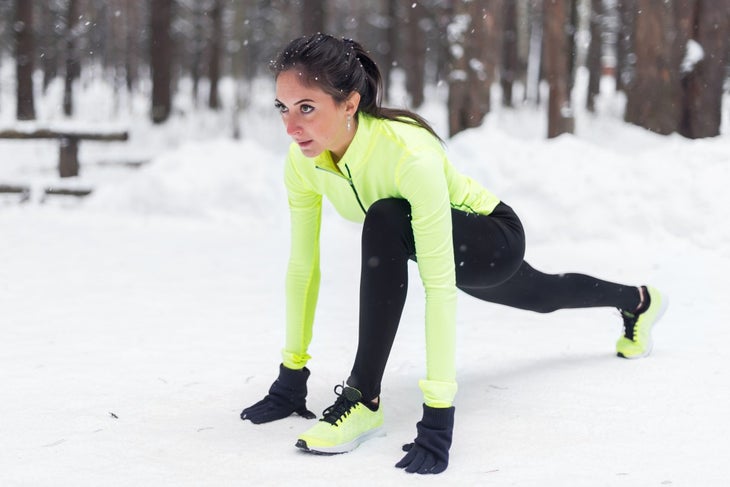 In the animal world, many species go south for the winter while others remain and thrive. In the running world…not much is different. Some runners avoid the cold, some adapt to it, and some embrace it. To help you navigate the landscape, I've identified six types of winter runners to watch out for this season. Here's your field guide:
Name: The Tough Gal
Catchphrase: "You call this cold??"
Spirit animal: Canada goose
Description: Known primarily for her stubborn refusal to let go of summer, the Tough Gal can be identified by her noticeable lack of warm clothing. Unlike other types who dress in multiple layers during the winter months, this runner continues to exercise in cropped leggings and thin shirts, only adding a light jacket when the temperature falls below 40 degrees.  Take care in approaching her as she can often be heard calling people who wear gloves " pansies" and seen pointing to the sun while rolling her eyes.
Name: The Stay-Puft Marshmallow Man
Catchphrase: "Who ya gonna call…to help me get this freaking jacket off?"
Spirit animal: Wooly mammoth
Description: This runner is the personification of "more is more." Infamous for a hatred of the cold that rivals only her love of running, she has cleverly devised a method of self-preservation that involves wearing as many articles of clothing as humanly possible. The SPMM has evolved over time to be able to sense exactly how many layers to put on before she will be physically unable to move. When not running, she can be found doing so much laundry.
Name: The Snowshoer
Catchphrase: "Cliiiimb eeevery mountaaain!"
Spirit Animal: Mountain goat
Description: Often confused for her warm weather relative, the Trailblazer, the Snowshoer hibernates most of the year before emerging at the first snowfall. Her preferred habitat is snowy wooded trails but she has been sighted as far away as cloudy local parks and drizzly suburban neighborhoods. Her identifying marks include sunglasses tan lines and a colorful array of specialized winter footwear.
Name: The Girl Scout
Catchphrase: "Be prepared…to be really cold."
Spirit Animal: Squirrel
Description: Though this runner is equipped to survive all seasons, she thrives in winter thanks to her arsenal of winter gear and gadgets. She never ventures outside without tissues, wool socks and earmuffs, and she's often spotted with backup gloves in her pocket. Fun fact: the Girl Scout is notorious for having secret stashes of lip balm and hand warmers in every pocket.
Name: The Weather Woman
Catchphrase: "The weather outside is so *&!#$@ frightful!"
Spirit animal: Raccoon
Description: Raised predominantly in the age of technology, the Weather Woman cannot survive without the weather channel and the hourly forecast app on her phone to ensure the most ideal running climate. It may be hard to find her as her routine varies greatly and depends entirely on temperature and precipitation patterns. If you think you've spotted this runner, you can confirm by how warm and dry she will appear.
Name: The Treadmiller
Catchphrase: "I don't do cold."
Spirit Animal: House cat
Description: Like clockwork, this runner migrates from the great outdoors to the gym every December. Though she may not be able to withstand the cold she is admired for her uncanny ability to always know how many days are left until summer. Identify a Treadmiller and you're likely to overhearing her asking gym employees to turn up the heat and inquiring if they have hot cocoa at the juice bar.
Related:
6 Types Of Fall Runners You Always See