5 Ways To Improve Your Time And Run A Faster Marathon
Here are the things that one runner tweaked between marathons that helped her run faster. Put in the work and the results will come!
Heading out the door? Read this article on the new Outside+ app available now on iOS devices for members! Download the app.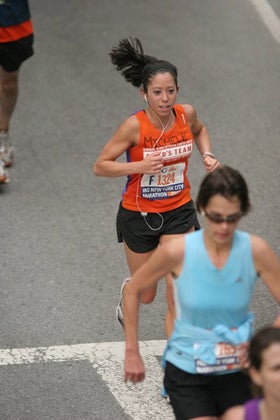 The 2002 Philadelphia Marathon was my first 26.2. I was a senior at West Point. I had grown tired of going to the gym and running with no purpose. I wanted to train for something. While I had never run more than seven miles in my life but figured three months was enough time to train for the distance.
I wish I could say that I remembered crossing the finish line or how amazing the entire race was. Truthfully? I don't remember much more than brief, five second snippets. The one thing that stands out in my mind is the time I crossed the finish line – 3:54.
Over the next five years, I graduated, went into the Army, deployed to Iraq, and filled my time with work, friends and the gym. The longest distance I ran during this stretch of time was 5 to 6 miles. I never intended to run another marathon, at least not in the near-term.  Short distance running with my unit and occasionally on the weekend was how I exercised.
But the summer of 2007 changed all of my running plans. I joined the Fort Hood Army 10-miler team after being persuaded by friends to try out. I now had a knowledgeable coach to train me. For the first time in my life, I did tempos, intervals on the track, and consistent long runs. I learned about stretching, nutrition, cadence, and breathing.
I decided to enter the NYC Marathon lottery and figured I could piggyback the preparation for my second marathon with the 10-miler training. I had no time goals for the marathon, which was just three weeks after the 10 miler. I didn't wear a GPS- I had a Timex stopwatch. I did one 20 miler during training and didn't dwell on the upcoming marathon. I was too focused on my upcoming deployment to Iraq for a year, which was occurring a week after the race. Despite all of that, I took 31 minutes off my previous marathon PR, qualified for Boston, and ran a 3:23.
I am not an expert with training plans, nor am I an elite runner. There is an endless list of things to tweak, improve upon or change to help obtain a faster marathon time. But these are the top things that I did differently from one training cycle to the next that improved my time.
To run faster, you have to run faster:
For years, I would run 4-6 miles 5+ days/week. Every run was between 9:00-10:00 min/mile pace. So while I was staying in shape, I was not pushing myself or getting any faster. It was too easy to just get on the treadmill, set the pace, zone out to something on TV and run for an hour. Don't get me wrong—there is nothing wrong with this…but it won't help you if you want to run a marathon faster.
Focused Speed Work:
For three months, the 10-miler team would head to the track once a week to do 400m, 800m and 1600m repeats. During those months, my Army Physical Fitness Test 2 -mile run time dropped from a 14:45 to a 12:40. There are some many of types of workouts for speed – tempos, tempo intervals, fartleks, intervals, fast finish, marathon pace and so on. Different training plans utilize different workouts. In my opinion, there's no right or wrong method. As long as you are working on running faster on designated speed days, you will get faster.
More Long Runs:
I didn't do enough long runs for my first marathon. The furthest I ran was 16 miles, and I only did that twice. I paid for lack of long runs by hitting the wall hard at mile 22. Although I only did one 20 miler in the train-up for my 2nd, I did many more 14, 16 and 18 milers. Long runs became part of my weekend ritual and the miles felt more natural to me. I slowed down towards the end but kept running and never hit the infamous wall.
Nutrition:
When I ran my first marathon, my diet was on par to that of most college students- not that great. By my 2nd marathon, I had gotten smarter about foods that work with my body and gave me energy. I also focused on what I was eating before and after workouts and races.
Patience and Persistence:
I think this is one of the most important things to keep in mind when you are looking to get faster. Chip away at your goal a little bit at a time and remain persistent with your training. If you keep working hard, the results will come.