5 Ways To Know If You Should Hire A Running Coach
To take your running to the next level, a coach could be a valuable asset. Here are 5 things to consider when deciding to find one.
Heading out the door? Read this article on the new Outside+ app available now on iOS devices for members! Download the app.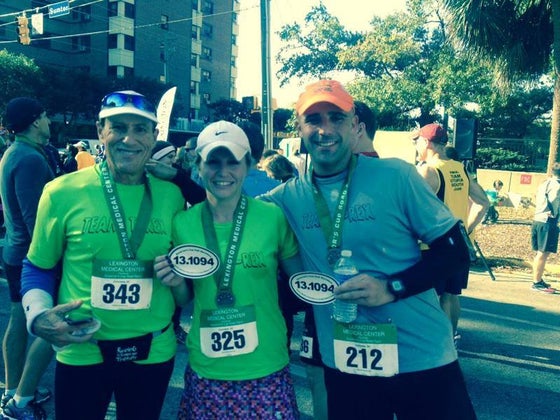 If you've read my blog, you know I'm not exactly the fastest runner around. The goals I have with my running usually center around running fun races and making memories with my friends, not about obtaining a certain time goal. That's just the nature of my personality. That said, I also know how much fun it is to earn a shiny new PR. It feels great to know you're improving your body and your fitness by getting faster. Whether you're a new runner who isn't exactly sure of the best way to go about increasing your fitness while staying injury free or a seasoned marathoner who has hit a plateau, here are some things to consider if you're thinking about hiring a running coach:
Adaptability: 

A running coach can create a custom training plan for you that fits your lifestyle, interests, and schedule. Whether you travel regularly for business or are running multiple marathons in one season, a coach should be able to accommodate your schedule. That being said, there's a limit – you're probably not going to reach your goal of qualifying for Boston if you can only run once a week, so be realistic about what you're looking for.

Support:

Whether you're working with a coach who meets you at the track for your speed workouts or one that you communicate with online, a coach can provide valuable feedback regarding your pacing and performance. I was so afraid of going over my prescribed interval times that I always ran them way too fast. I thought that was a good thing until my coach told me otherwise!

Variety:

An experienced running coach has been in the game awhile, so they probably have a variety of fun (relatively speaking) and different workouts for you to try. That means you're unlikely to get bored and you'll constantly keep your body guessing.

Cost:

Running coaches aren't free, and many are not cheap. How much you spend on a running coach should be determined by the amount of feedback you're looking for and the importance (to you) of your goals. Generally speaking, the more interaction you want, the more you will pay.

Experience:

While running is the same motion over and over again, the way we train to excel at different distances is inherently different. A training plan for a goal 5K will look a lot different than one for a marathon. Look for coaches who have experiencing running (and running well!) at the distance that you are interested in. I do a lot of marathons, so the coach I worked with last year was a seasoned marathoner.
Overall, I had a great experience working with a running coach. I'm not quite prepared to do so again as I recover from my back surgery, but it's definitely something I will consider again in the futures. After all, I PR'ed in every distance (sometimes more than once) over the span of 6 months! You can't argue with results like that. If you're looking for a way to step up your running game, a coach might be a great place to start.