5 Fun Songs To Sing To Yourself As You Run
Sometimes you aren't able to run with music, but Eat Pray Run DC has you covered!
Heading out the door? Read this article on the new Outside+ app available now on iOS devices for members! Download the app.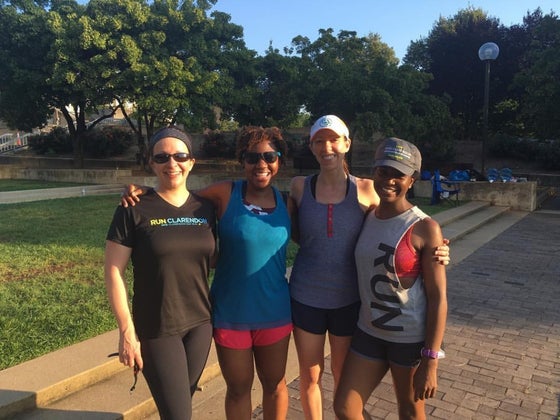 I haven't run with music for a couple of years. While I love music, I stopped running with it because I was training with a large group and our coaches wouldn't allow us to run with music on our group runs. There were too many of us and there was concern we wouldn't be able to hear others on the trail. So that summer I got used to running without music, even though music is my jam and I love it so. While getting used to running without music, I developed a habit when running alone—and I started singing to myself while running. There may or may not be occasions when I sing aloud when I'm running—I'm not telling. But what I will share are five great songs to sing to yourself as you run!
Lose Yourself by Eminem
This one is great because it'll get you all pumped up and trying to think of all those words (rapping is hard, y'all). It takes up a lot of mental space so you aren't focusing on the fact that it's 6 a.m., 85 degrees and 100 percent humidity.
Since You've Been Gone by Kelly Clarkson
The chorus of this is just so fun and so great and nothing says, "I love running!" like screaming, "Since you've been gooooooone…" at the top of your lungs while running down the trail.
Baby Got Back by Sir Mix-A-Lot
Okay, so this one I added because I know every single word so it often pops into my head while running. Again, the distraction factor is huge.
Ice Ice Baby by Vanilla Ice
What can I say, catchy songs are the best songs to sing to yourself while running. Also, during summer runs, this makes my brain think that it's cooler than it is actually, weather-wise.
Before He Cheats by Carrie Underwood
I know, kind of random, but I love the song. It's one of my karaoke go-to's, so I know all the words and it's just plain fun.
I would also unofficially add any random song that someone mentions, songs get stuck in my head so quickly that it's just crazy. If you don't run with music but love listening to music, I highly recommend adding any of these to your list of songs to sing to yourself (or others) while running!
Get More Playlists:
10 Sunny Songs Perfect For Summer Runs
10 Top Songs From The Summer's Biggest Tours