10 Things That Happen When Runners Date Runners
If your main squeeze also shares your main miles, then you might appreciate these things.
Heading out the door? Read this article on the new Outside+ app available now on iOS devices for members! Download the app.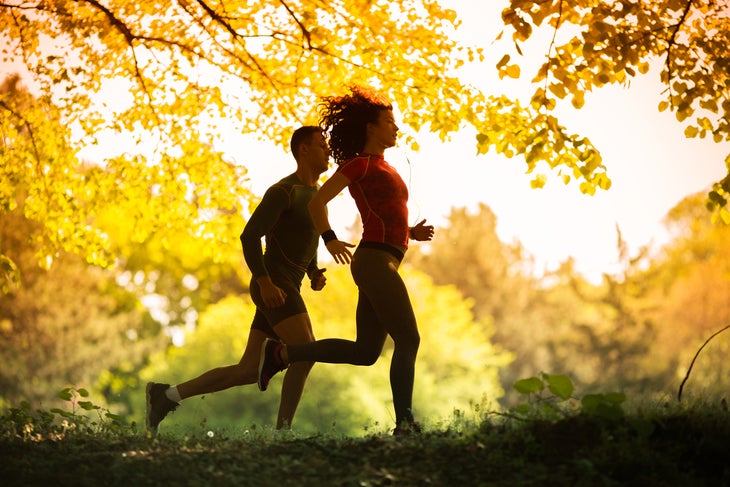 They say that when looking for that special someone, it is important to find someone with common interests. Maybe that is why so many runners end up together. You know you might know these things well if you're in a running relationship.
You understand each other's training schedules
.
A healthy relationship requires a certain level of respect for your partner's hobbies. When you are both runners, you understand if the other is busy with training because you know what it is like to be training for a race.
Date nights can include a run
.
Dinner and a movie can be fun, but tying up your shoes and heading out the door together is an awesome way to spend some quality time together. You can still ask about the other's day and catch up happenings in their life, all while logging some miles. Long runs are more fun with a partner, anyway!
You don't always need to go out on a date.
However, it is okay to skip the date night. Runners understand staying in on a Friday night when you race Saturday morning. You can balance nights out on the town with pasta dinners at home.
Conversation comes easily.
No matter where you are or what you are doing, conversation seems to revolve around shoes, watches or running clothes. You like seeing what kind of gear your partner is using and talk about cool new gadgets that are being released. You may or may not be dropping hints for Christmas present ideas.
Slowing down is a romantic gesture.
Buying flowers and writing handwritten notes are pretty romantic. However, there are some gestures that go straight to a runner's heart. When your partner slows down (or speeds up!) for you on a run, has a smoothie waiting for you after the run or is the loudest spectator on the the sidelines of a race, then you know you've found a perfect match.
You have a perfect excuse for time apart.
While running together is a fun activity, whenever you need time away from your significant other, running is a great option. It gives you time to be alone with your thoughts.
You're okay with sweat and blisters.
You've seen grosser side of each other. Once you get past that hurdle, then nothing can gross you out about your partner.
It's an endorphins enhancer.
Exercise leads to more endorphins, which leads to a happier person. A happier individual leads to a happier relationship!  
You have constant access to advice.
Whether you are looking for a new stretch or just some moral support, your partner is always available to give some advice or lend a hand. They may have struggled with a similar injury and know how to help you out, or can give you a pep talk before you hit the trails.
You understand commitment.
Runners are a dedicated breed of people. If you are as dedicated to your partner as you are to running, then your relationship is sure to be a fulfilling one.
If these things are common in your relationship, it might be safe to say you've found your sole-mate.