10 Reasons I'll Run For Chocolate
There are a lot more reasons than simply chocolate alone.
Heading out the door? Read this article on the new Outside+ app available now on iOS devices for members! Download the app.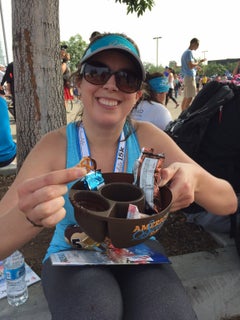 Last year I ran my first Hot Chocolate race, and I'm so excited to do it again on Sunday. Here are 10 reasons why:
1. Running with friends. Like last year, I'm not racing alone, and that makes a race so much more fun. Plus we can go to the expo together. And we can do a group dinner the night before. Salmon and a healthy, vegan blueberry lemon "cheesecake" are on the menu. Yum!
2. The on-course treats. Marshmallows, chocolate chips and M&M's might not be my typical run fuel, but they make me smile nonetheless.
3. Sleeping in late. With the recent time change and that fact that I live a couple of miles from the start, I don't have to get up too, too early (at least that's what I'm telling myself).
4. 15K is a great distance. Running just over 9 miles means none of those final tough miles of a half marathon.
5. Getting healthy, safely. I had a bunch of issues last year with calf cramps, Achilles tendonitis and good ol' arthritis, which troubled my runs. I've been following Eric Orton's training plan from The Cool Impossible, which focuses much more on mileage and teaches how to run slowly, so this race is perfect for sticking to that training plan.
6. Familiar roads. Part of the route literally goes through a park that's on my usual running neighborhood route.
7. The jacket. This race is known for it's pricey swag and this year's jacket looks super comfy.
8. Inspiration from other runners. I'm running with a friend who hasn't run farther than 7 miles, so the accomplishment of crushing 9 miles is HUGE. I'm going to get my RRCA coaching certification next month, and training with newer runners has given me a taste of that role and how rewarding it is.
9. Friendly spectators. It's possible I'll see some family, friends and neighbors along the route, but even if they're sleeping in, I'll appreciate the rest of the cheers. With so many new runners, a race like this tends to bring out a particularly supportive crowd (thank you!).
10. The chocolate. Of course, when it comes down to the finish, it's all about the chocolate. As a beverage and as a dipping sauce, it's a fantastic way to refuel with a smile.